We're in Ushuaia right now--the sourthenmost city in the world. Argentina's Tierra del Fuego is a gorgeous island that reminds me a lot of Alaska. Absurdly breathtaking. We're so isolated that if you went due south from here, passing through the south pole and then back up north again, you wouldn't reach land until Indonesia. But let's back up a bit... We left off when we were headed into Argentina.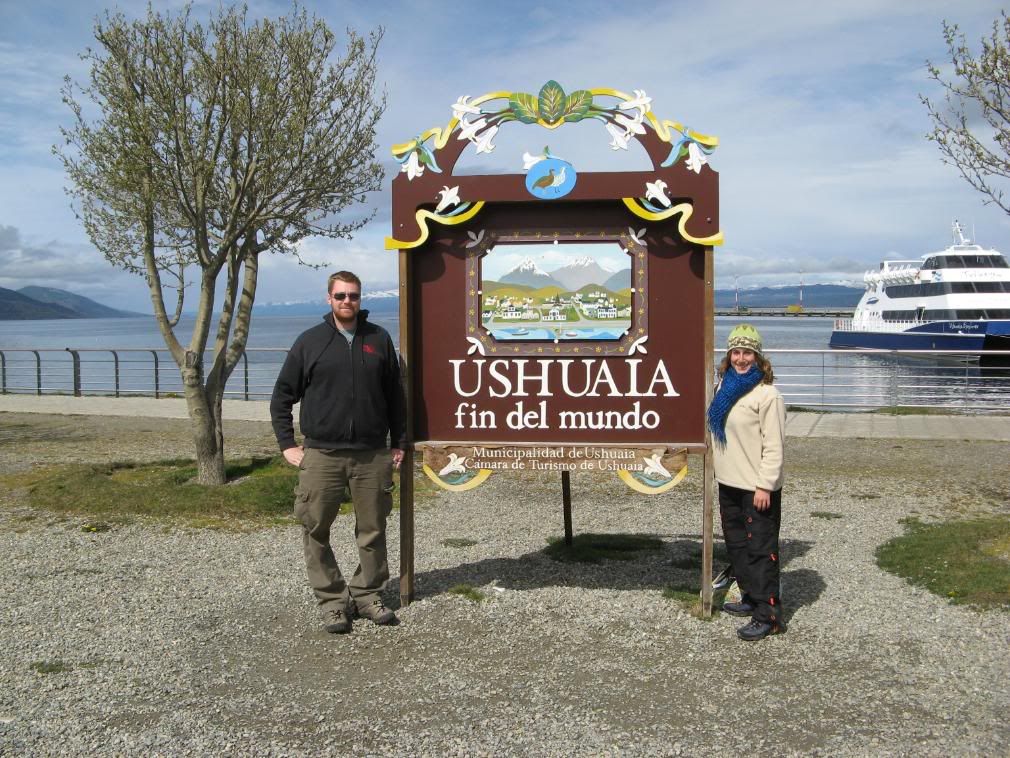 Our bus from Valparaiso took us winding through the Andes at the base of Aconcagua, the highest mountain in the Western hemisphere. We made it to Mendoza in the late afternoon and explored the town (which we expected to look like Napa or Santa Barbara, not a bustling, spread out industrial town with 800,000 residents).
We spent a few days touring vineyards and tasting the best malbecs in the world but our first attempt at locating a top notch winery was doomed from the begining. We were given 5 sets of different directions to the same vineyards...
We chose the one that sounded the most reliable and rode a bus for 45 minutes, which eventually dropped us off in the middle of grape vines and nothing else. Long story short, we flagged down a lower-end vineyard pickup truck and had him drive us back into town. Travel tip: when in Mendoza, hire a car and driver to take you through the vineyards.
Afterwards, we settled on a standard mini-tour of two vineyards. Above on the left is me drinking from the biggest barrel in the region (I would be willing to bet a bottle of wine that our whole apartment back in NYC would fit inside the barrel--see picture above).
On our last day, we went to Ruca Mallen, which had the most amazing five-course lunch with divine wine pairings. We met the lovely couple above on the right, Cliff and Phyllis. Originally from Boston, they have retired to Florida and spend a great deal traveling the world. We shared a few glasses of wine and some great conversation, and they invited us to go to the next winery with them on their tour (Carmelo Patti, above holding the bottle of wine--note: his Cabernet Sauvignon is Deanna's new all-time favorite wine). Little did we know, they also arranged to pick up our tab for lunch. How generous! We can't wait to return the favor.
We took an overnight bus to Buenos Aires and spent a low-key day getting a feel for the town in preparation for our two week stint there starting on the 17th. From there we caught an early morning flight to Ushuaia (after a mini-debacle of going to the wrong airport at 4am, luckily we eventually made our flight 30 seconds before they closed the gate) where we currently are.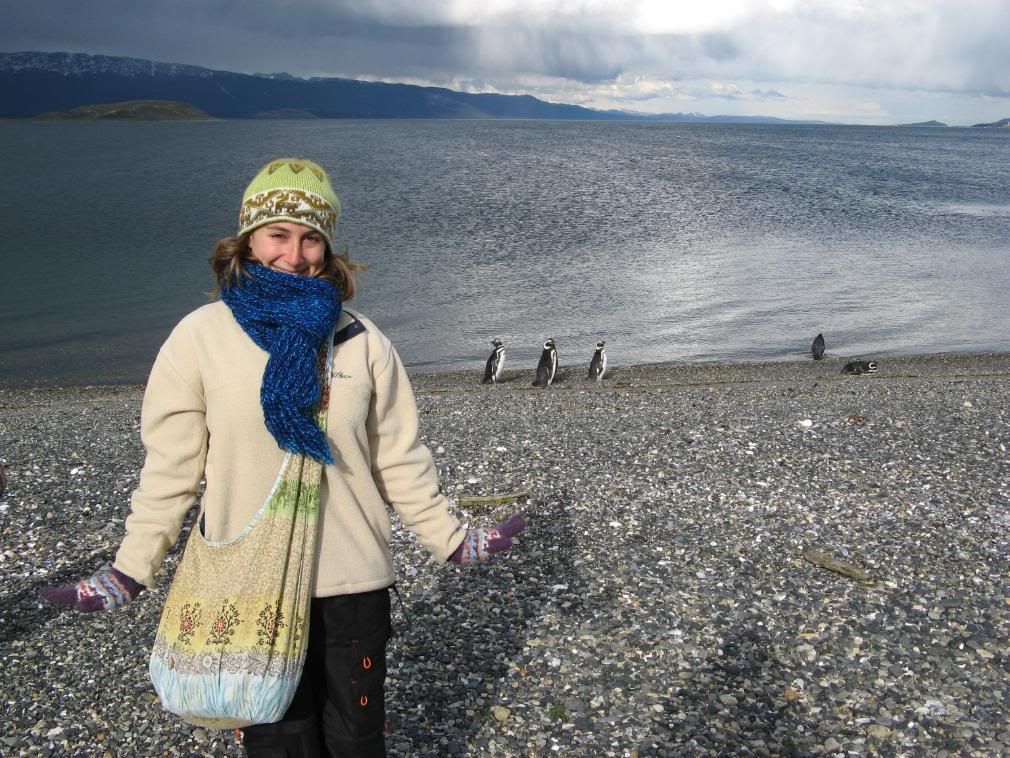 Our first excursion was to a penguin colony. Only 15 people are allowed on the tiny island at a time (and 45 total per day), so we were really lucky to spend a few hours with 20,000 penguins. To the left is Deanna doing her best penguin waddle impression. Below are a bunch of pictures we took there--we hope you enjoy them as much as we enjoyed the penguins! (Yes, that's a rainbow above the pengiuns in the third picture...)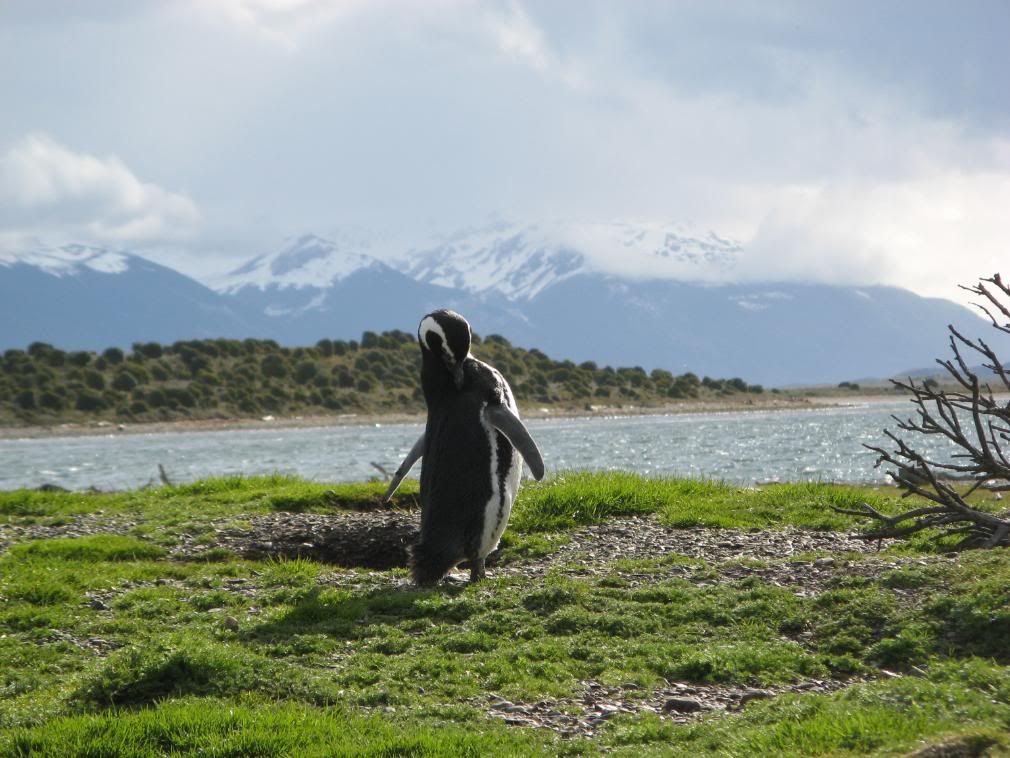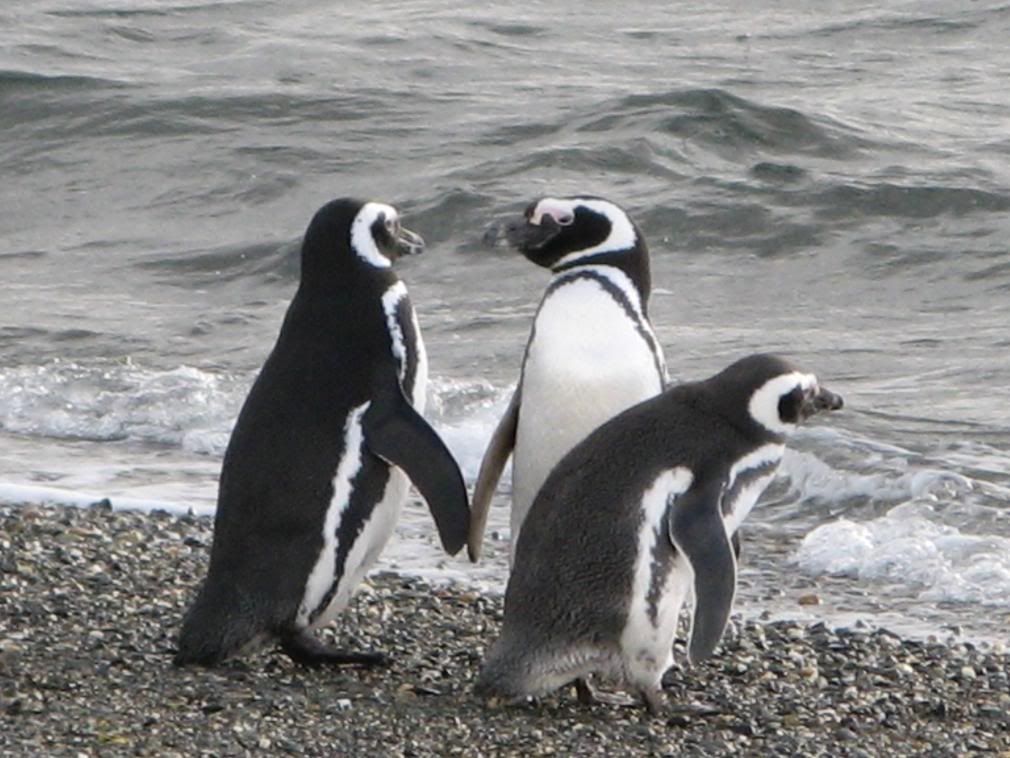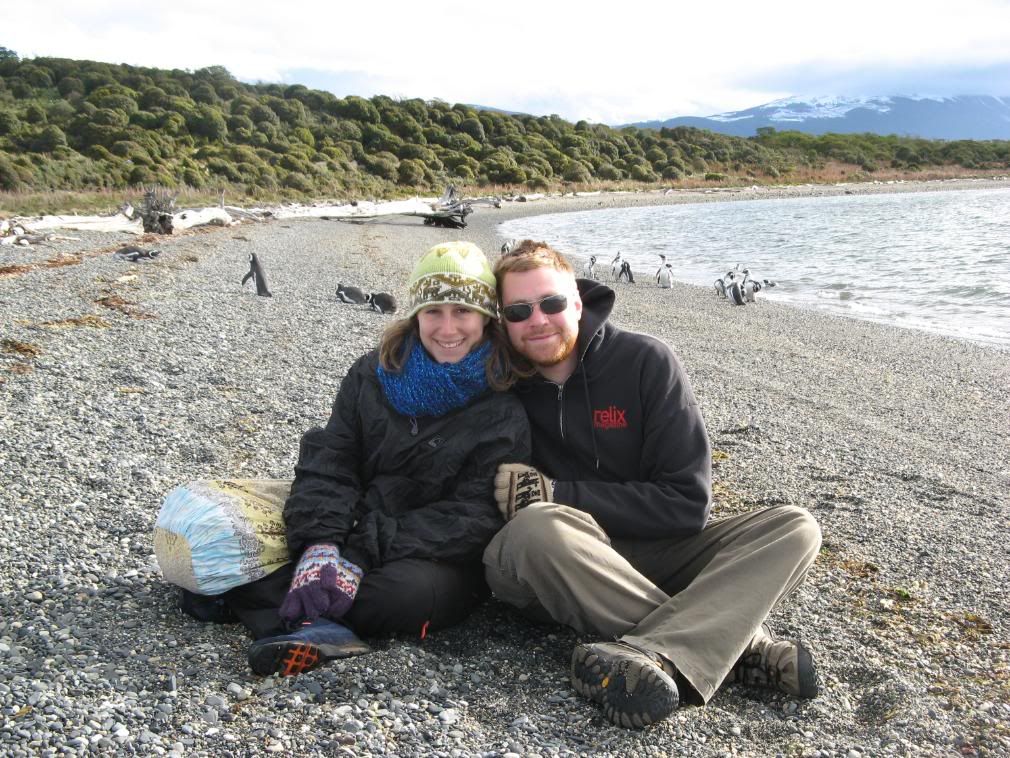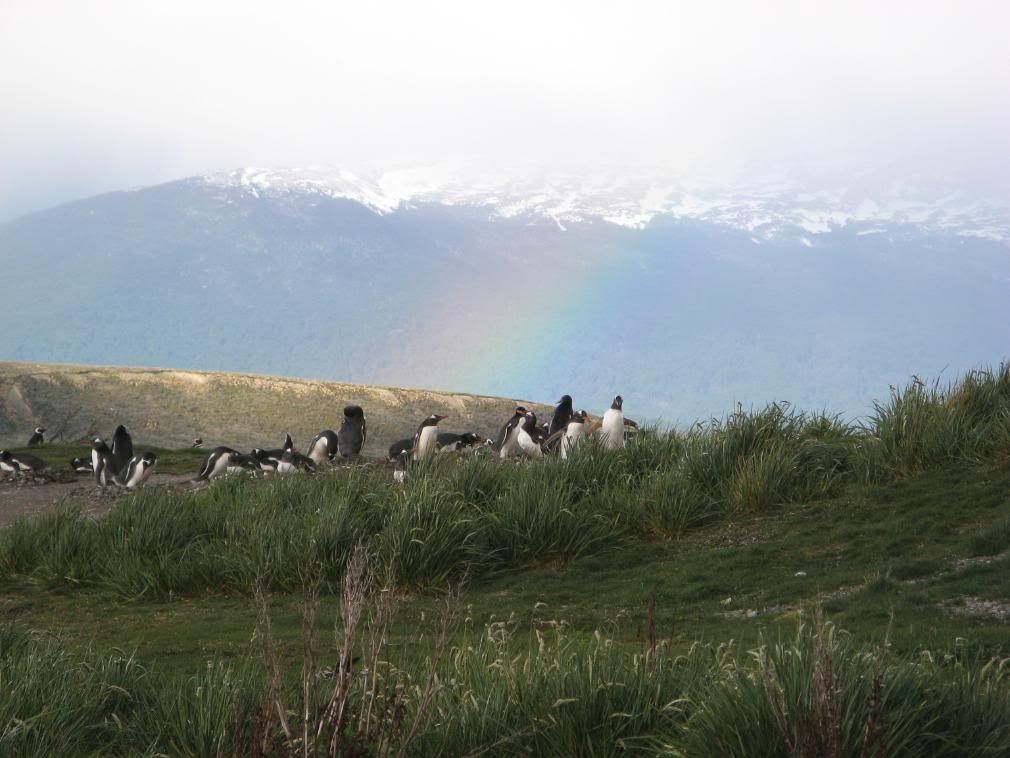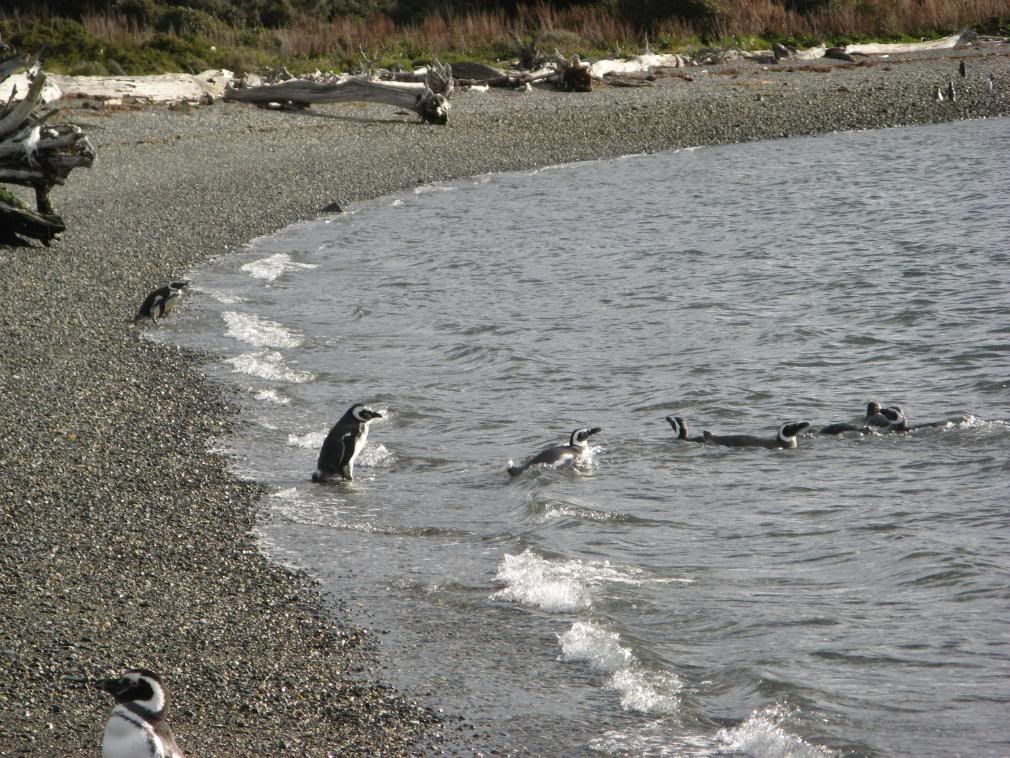 Then we celebrated Deanna's birthday with a very relaxing day at a spa overlooking the Beagle Channel. Afterwards, we went to an amazing dinner at (according to 2005 survey) the best restaurant in Argentina, Kaupé. Thanks for that gift, Mom and Dad! Tomorrow we rent a car to drive through Patagonia up to El Calafate to the National Glacier Park there.