We arrived in Santiago after an overnight bus and checked into another awesome, funky hostel. The room wasn't ready so we went straight to the computer to find out that I (Deanna writing here) passed the CPA exam! After two years, I am now a Certified Public Accountant, or Chilean Party Advocate... tomayto, tamahto. So we celebrated by putting the "fun" in "funicular."
After that we walked through the city and had some celebratory pisco sours while we waited for the sushi place to open. Low and behold, the pub barker in the street was wearing a "Central Jersey" hoodie, as displayed below. As a newly-certified Party Advocate, I made sure we shared a dance in the street.
Santiago is a beautiful and modern city, very different from what we´ve seen so far in South America. It´s nice to
have the comforts of home (subway, rush hour, skyscrapers) but Santiago still retains its old world charm. There are many parks throughout the city but one in particular that won our hearts. Parque Cerro Santa Lucia is similar to, but much smaller than, the area with the castle in Central Park. After walking through a wooded hill, we reached beautiful fountains, gardens, and castle Hidalgo. It is truly an amazing urban treasure.
We took a few days to walk around town, relax in the park, and shop in a mall that puts Short Hills to shame. It felt like when I go to see my parents in Jersey. Later that night we met Marcie´s awesome cousins, Andreas and Brieta, for a great dinner at a cute local place. The company, food, and storries we shared made the night one to remember. Aaron also got to geek out about Bob Dylan with them, which made him very happy.
The next morning we were picked up by "Pachamama by Bus," our transport
/ tour for the next couple weeks. On the first day there was a stop to the touristy, but on-the-way, town of Pomaire (home of the 1 kilo empanada). Next, we stopped at dam that powers all of southern Chile. Then, we got to our home the night, Pichelimu, a cute surfing beach town. We saw a great sunset at Punto Lobos which has the best break in Chile and some say South America.
We had a "family" dinner with the tour group back at the hostel and bonded with the rowdy Irish guys. Oddly enough, one worked in Wildwood, NJ a few summers ago making sure the rides were safe. Note to anyone going to Wildwood... the rides are checked by drunk 17 year old Irish guys... proceed with caution!
Next morning, we set off for the long bus ride to Pucon (the Interlaken of Chile). On the way we stopped in Santa Cruz (left) to visit the museum owned by Carlos Cardoen, arms dealer and one of America´s top ten most wanted men. The incredible museum was full of tomb raider type illegalities, had an old railcar, and a gallery of beautifully-restored cars from the turn of the century (20th, not 21st). After that, we cruised for 8 hours with a steadfast Sergio at the wheel.
We are now in Pucon, where we decided to spend a week (hopped off the bus), doing all sorts of nature sports. So far we´ve hiked, we´ve biked, and have plans for rafting, zip lines, boating in the lake, and more hiking. Yes, by using the sushi place in town and visits to thermal baths for bribery, I have persuaded Aaron to hike, more than once. Below are some pictures of this beautiful town framed by lush green mountains, lakes, and a snow-capped volcano.
Volcano at the edge of town and river running through Pucon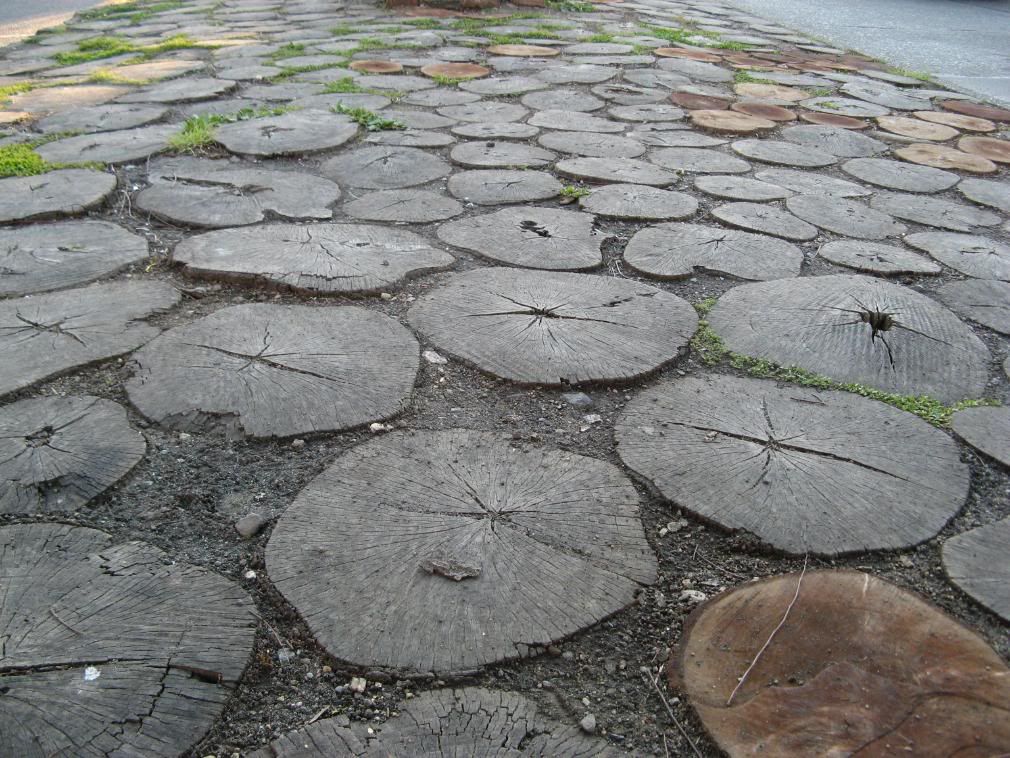 Fun totems at one of the lakes (Well he's clearly sad because we litter too much, but I'm not sure why she's so happy), and great wooden cobblestones.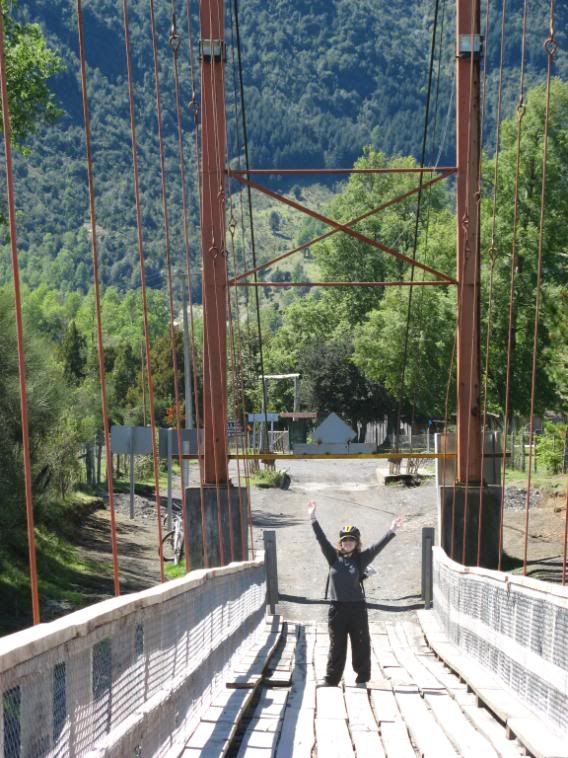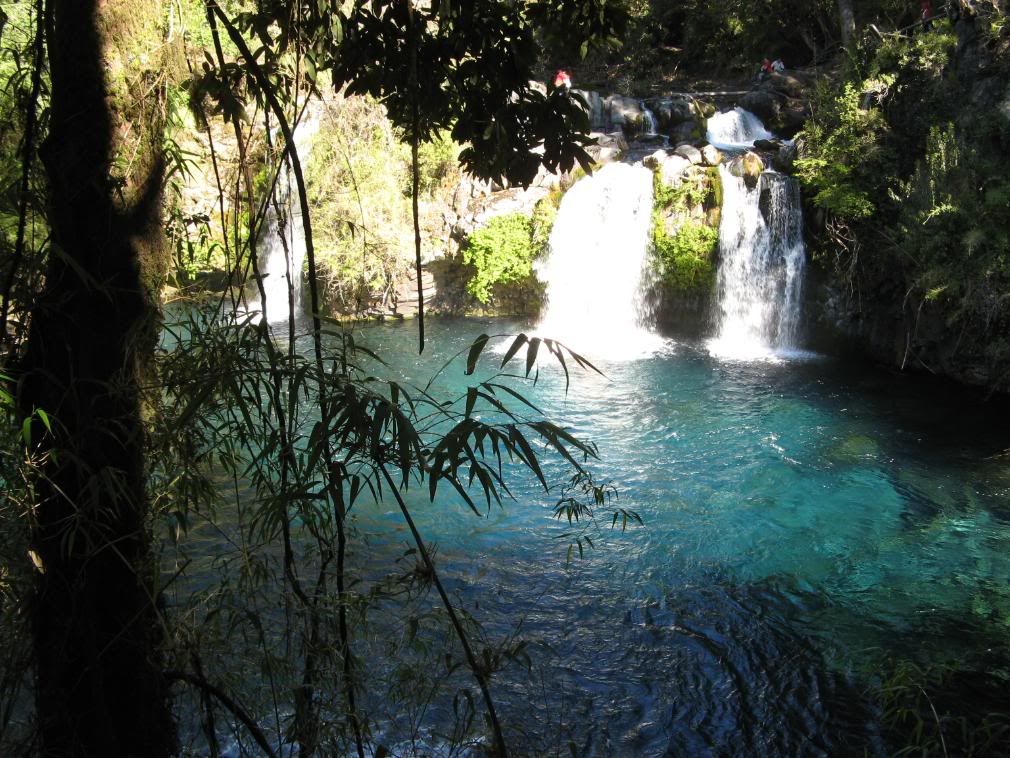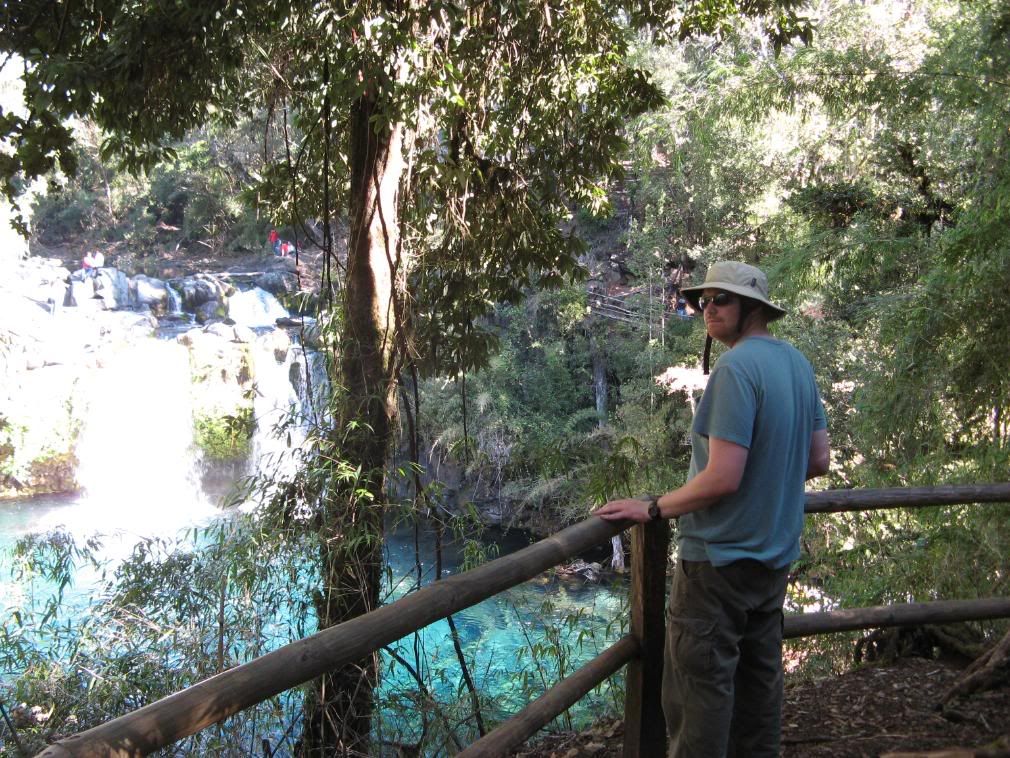 Awesome waterfalls (that flow through the ground, though you can't tell from these pictures) hidden in the woods about 20km outside of town.
PS... there is a huge kitchen at the hostel and we have the place all to ourselves until the next tour group gets here to pick us up on Friday. I´ve been cooking up a storm and loving every minute. This place is my paradise.