Here we are again, back at the beach in Sihanoukville, Cambodia. Rachel just left after a whirlwind 10 days crisscrossing this unique country. We met her in Phnom Penh, where we had a pretty solemn day touring the killing fields and former prison of Pol Pot's horrible Khmer Rouge regime. At the right are Deanna and Rachel riding in our favorite form of transportation--the omni-present tuk tuk.
We started the day off at Tuol Sleng, the former elementary school that Pol Pot turned into a prison known as S21. From 1975-79, over 14,000 people were brought here, tortured, forced to confess to crimes they did not commit (mostly they had to admit to ties with the KGB or CIA). All but 7 were either killed on site or taken by bus during the night to the killing fields 15km outside of town. Warning--some of the pictures below are pretty greusome.
This concentration camp still conjures horrendous memories and nightmares to every Cambodian. Below on the left is one of the cells, on the right is the bed inside, with leg iron, used to bind the feet of the inmate.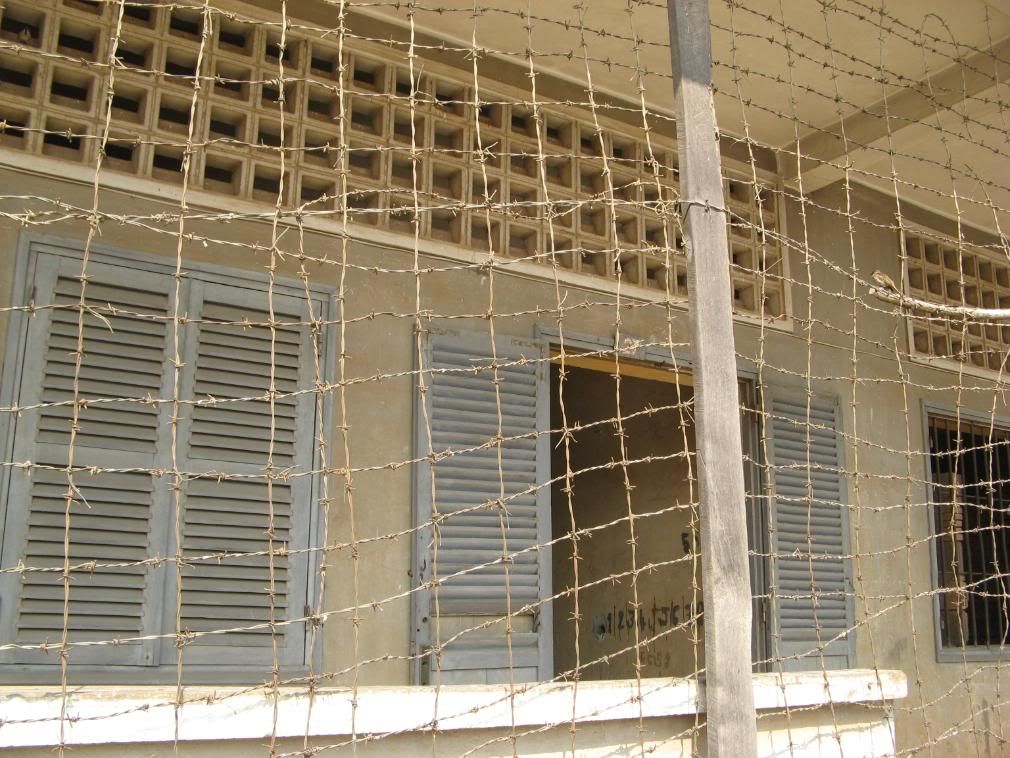 Below on the left is one of the gallows used to torture and hang prisoners. On the right are the rules of conduct for the inmates. Open that picture up and read them.
Finally, below on the left is a grim reminder not to take this prison too lightly. On the right is my picture of a picture of a map of Cambodia made from prisoner skulls and blood. The KR regime used this map to plan raids on villages and transportation of prisoners.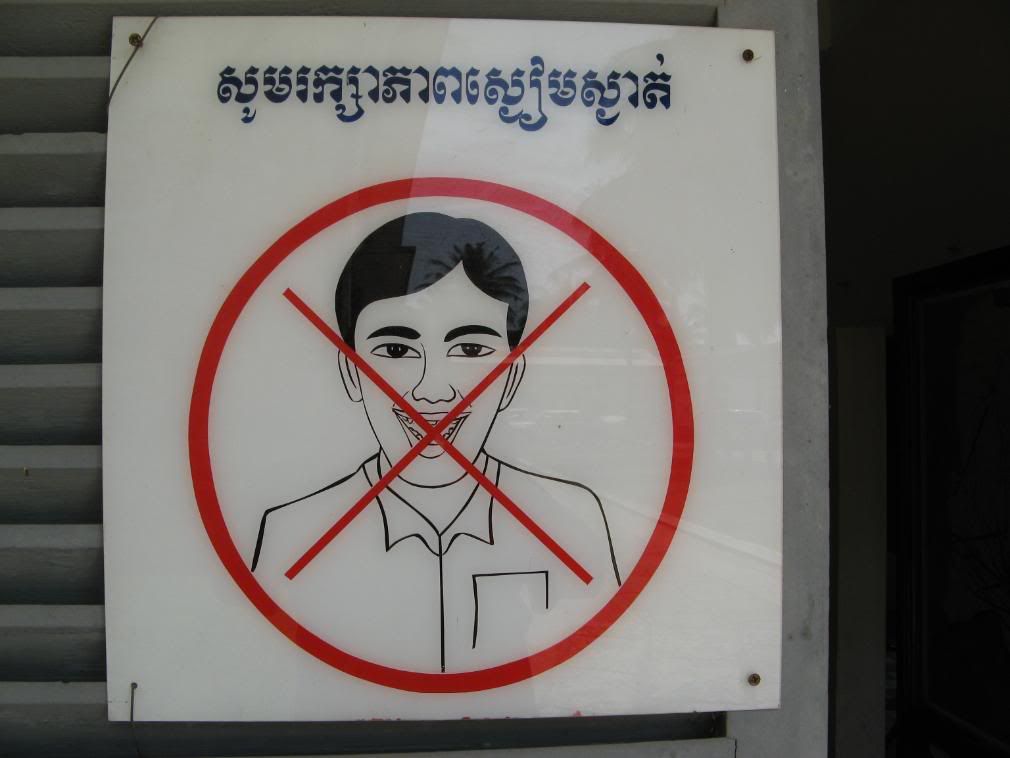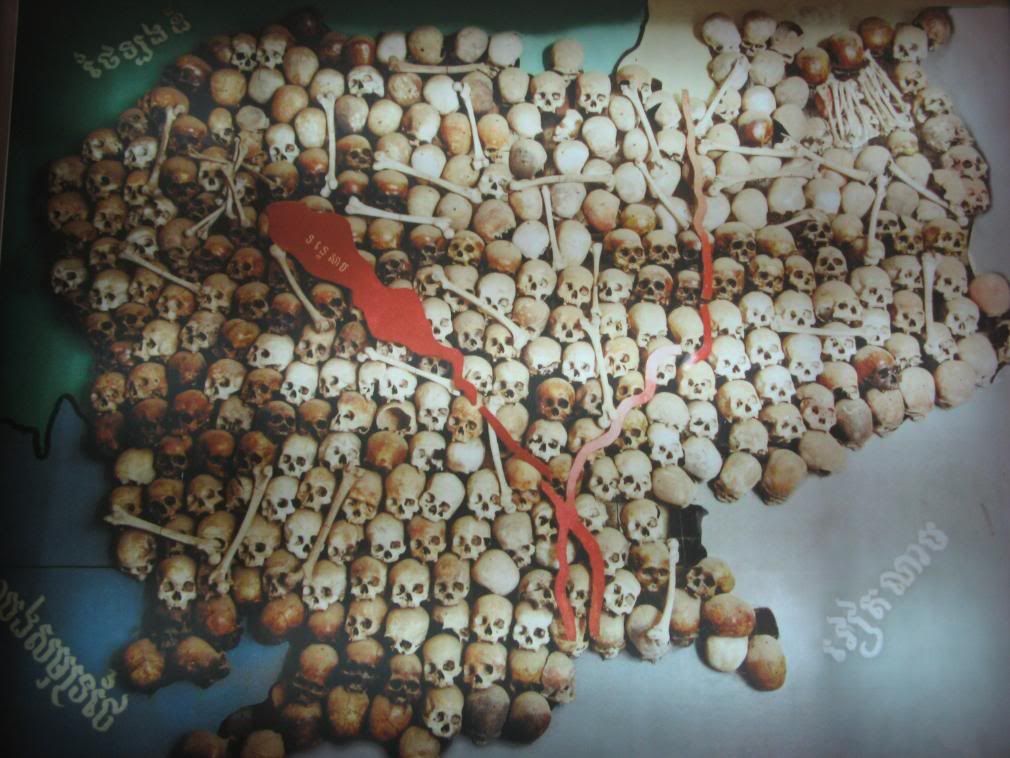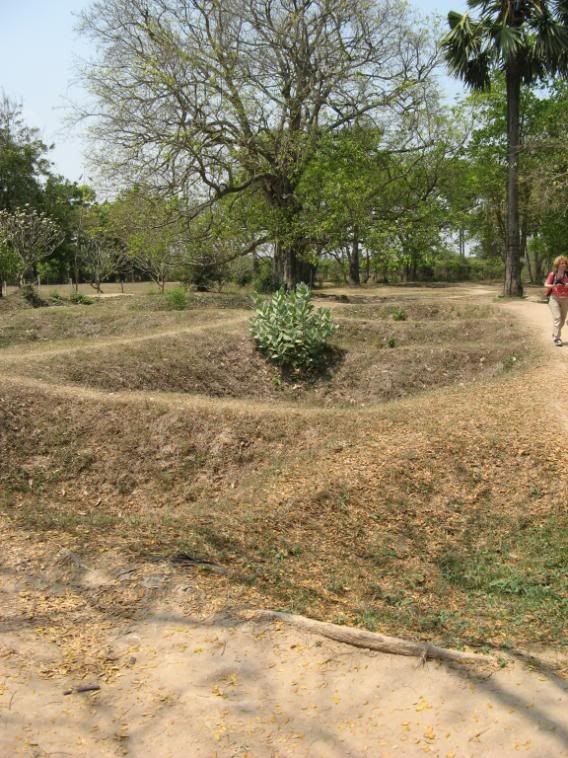 From S21, we went outside of town to see the actual killing fields. This was one of 17 spots in Cambodia where the mass killings took place. Several million were killed in the 5 years of Pol Pot's rule. This place was originally a Chinese cemetary set a bit back from the road. It wasn't even discovered until over a year after the Vietnamese overthrew the Khmer Rouge. On the left is a shot of some of the mass graves. Below on the left is one of the skulls--most people were bludgeoned to death, as the regime didn't want to waste bullets. Note the fatal blow mark in the skull. On the right is a pile of prisoner clothing found during the recent excavation.
Below on the left is a picture of the ground; clothing and bone fragments are poking through as the ground turns to dust during the dry season. On the right is a lizard on the tree--a nice reminder that even in such a horrendous place, life still goes on.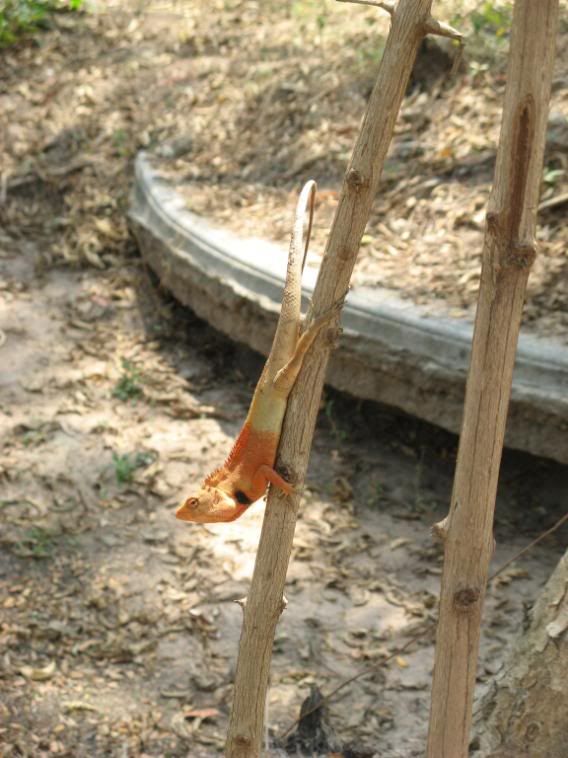 We finished the afternoon at the Grand Palace, and topped the night off with some tasty cocktails at the Foreign Correspondant's Club. A little more upbeat, that's for sure.