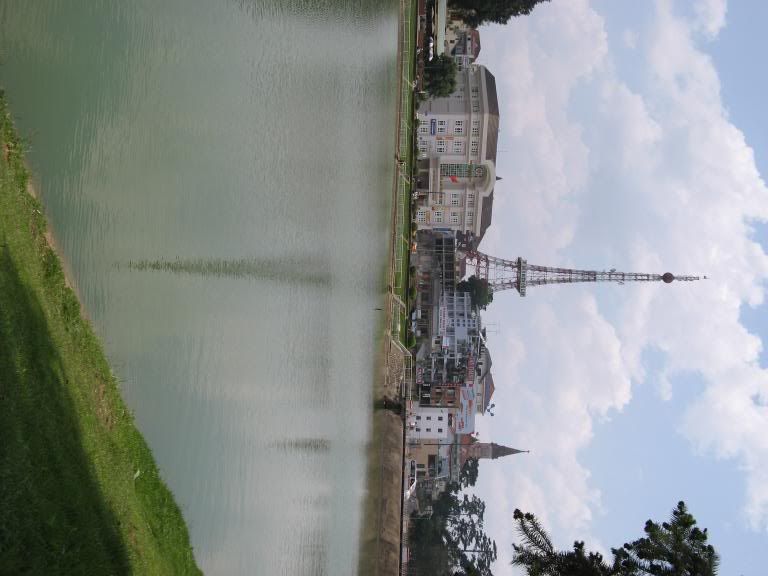 From Saigon we took a ride north through the countryside and up into the mountain town of Da Lat. This city was settled by the French as a resort town during the colonial period. There's even a TV antenna as a replica of the Eiffel Tower (see right). It was the first time in our two months in Asia where it was not scorching hot. We even wore our hoodies for the first time since the airplane ride from LA to Bangkok! I can't underscore how nice it felt not to be constantly sweating.
The only problem with Da Lat is that it is 100% kitsch. It looks and feels like a small town nestled in the Swiss Alps. The city is surrounded by hills covered in pine forests and they dug out man-made lakes all around.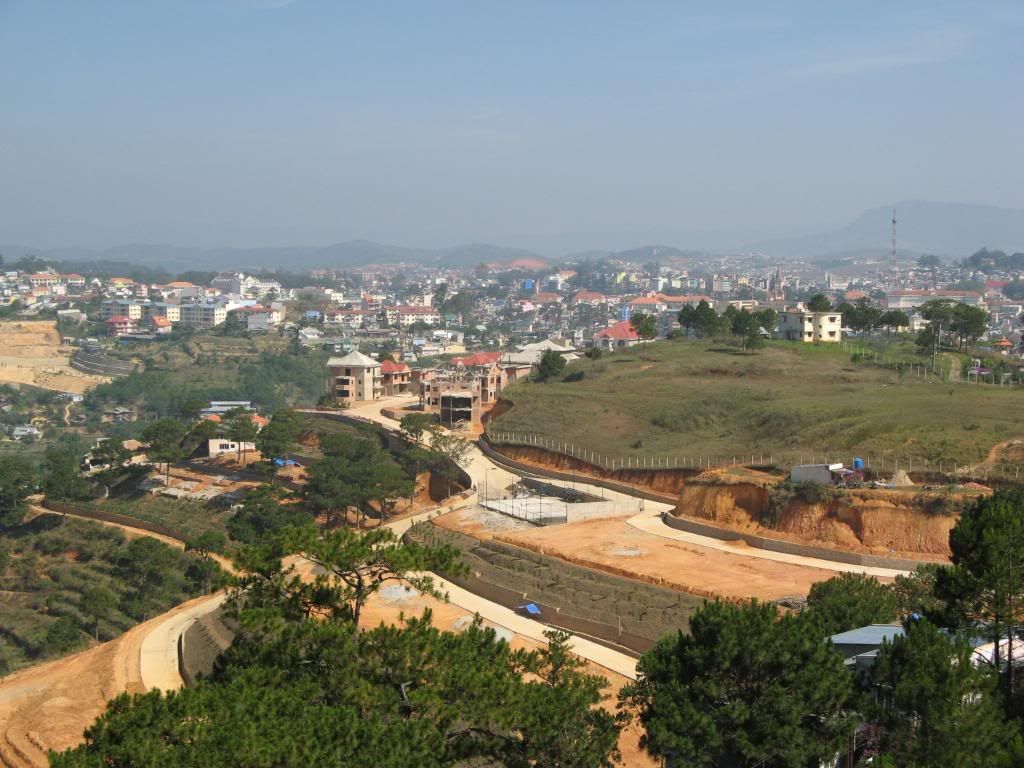 As cute as it was, it was a bit hard to get over the fakeness / Epcot feel of the town. But then we remembered--wait a minute, we love Epcot! So we embraced the kitsch by touring the forest in a gondola sky ride, posing in front of cheesy topiaries, riding a bumper car/toboggan down to a waterfall, and taking our picture at the Valley of Love--picture the lawn furniture section of K-Mart during a post-Valentine's Day clearance sale, all set up in a park to earn this city the title of Honeymoon Capital of Vietnam. See pictures below.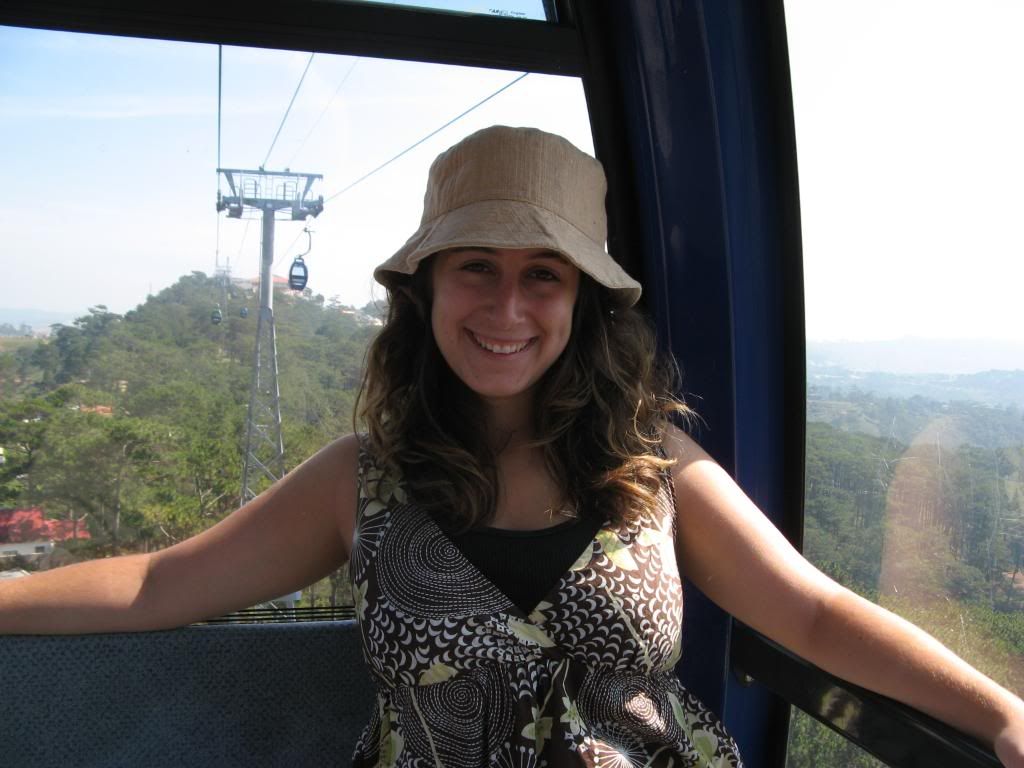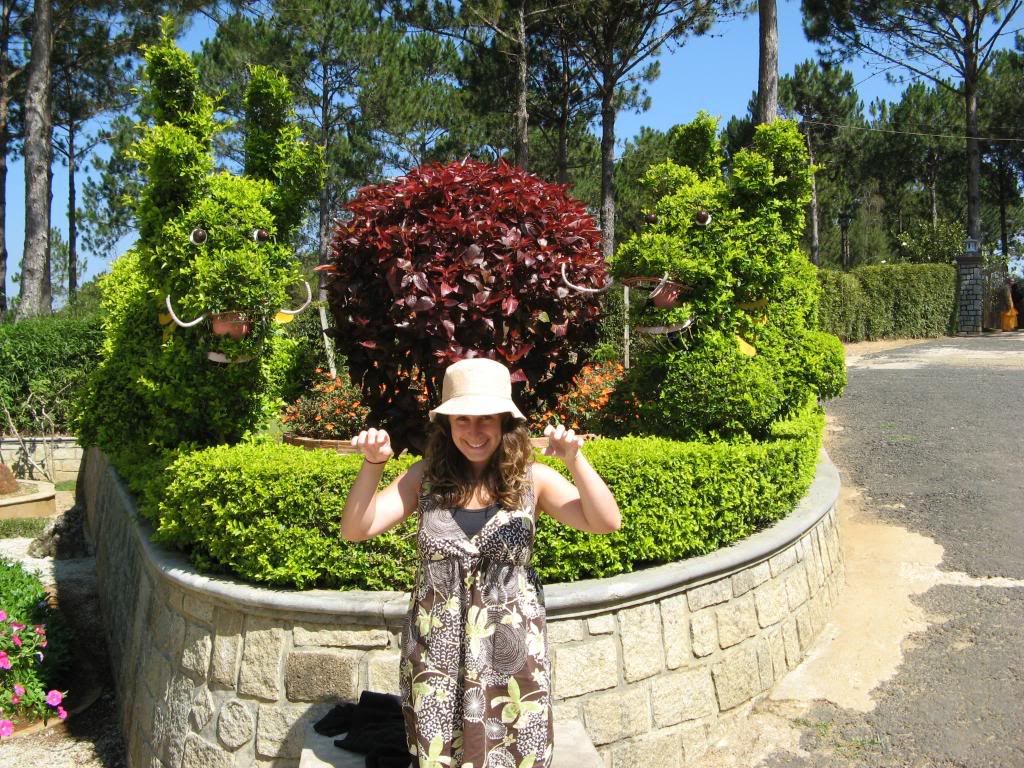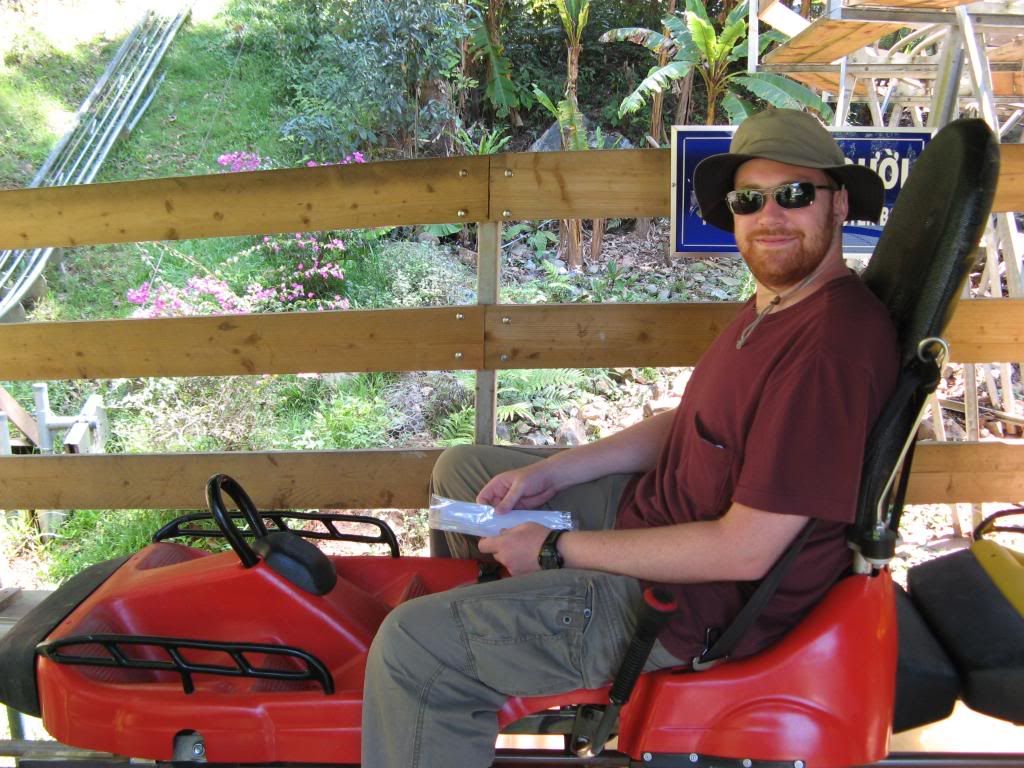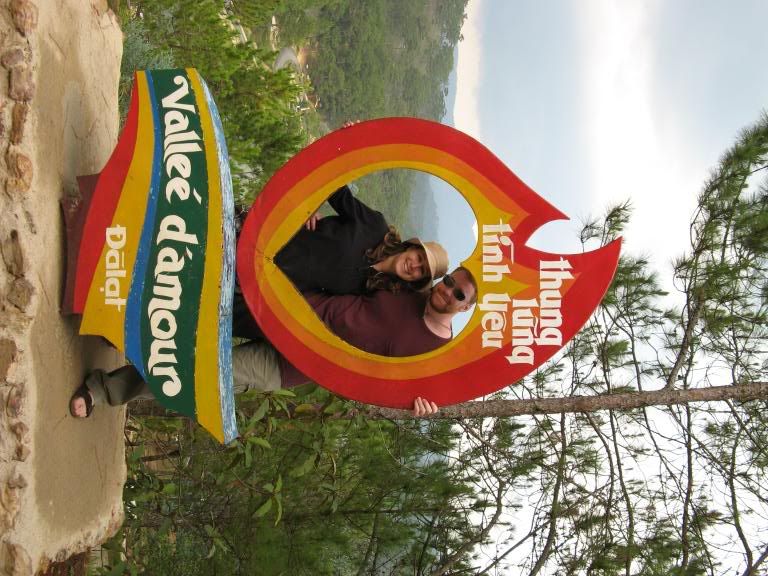 But, despite all that, we did manage to visit a Buddhist meditation center (below left), watch silk embroiderers work their magic, have some top notch Vietnamese meals, and tour some old French aristocrats' villas (below right--me at the desk of the fanciest/richest villa pretending to be important with two phones).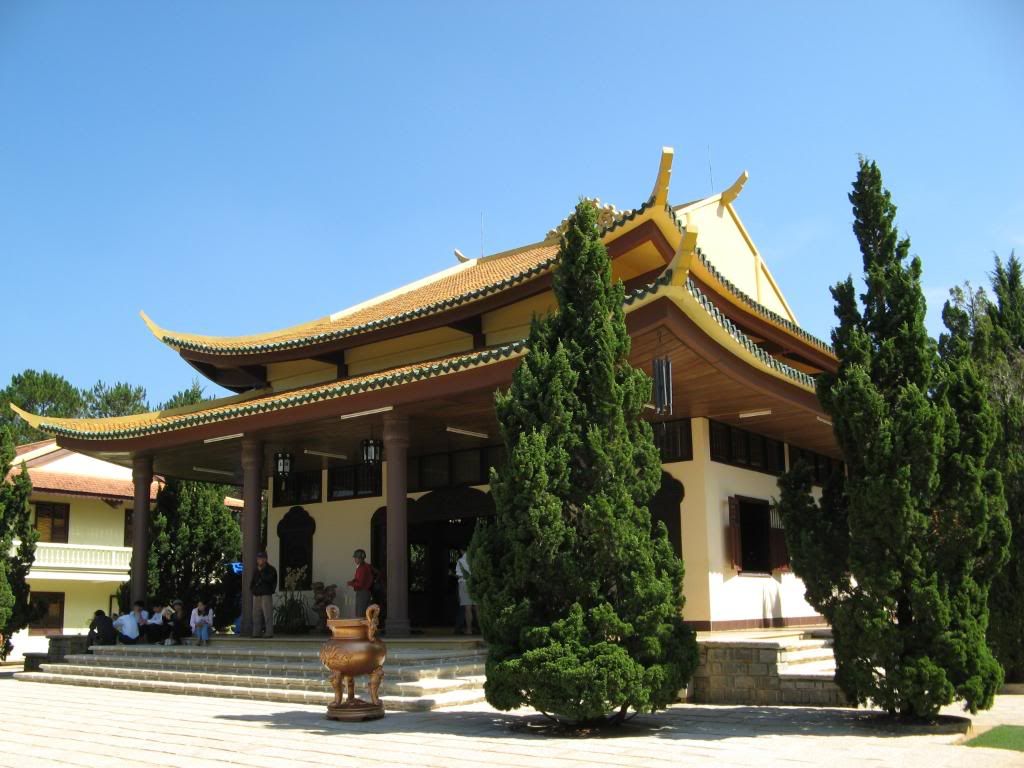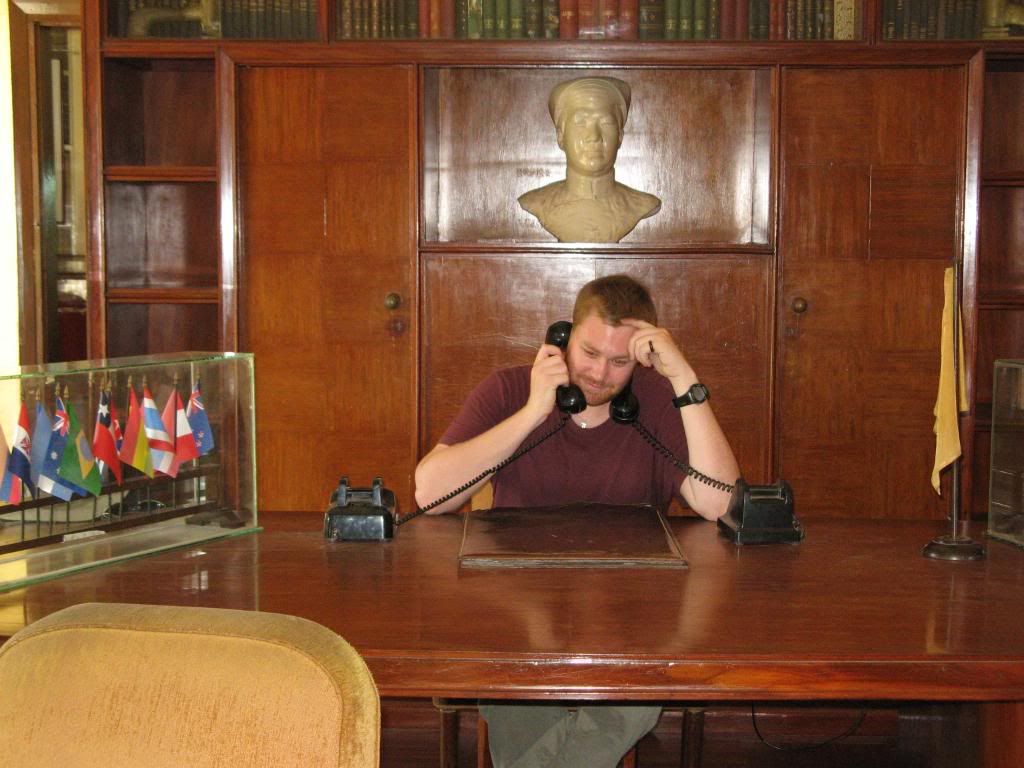 The countryside around town was just beautiful, as you can't really go wrong when you emulate a Swiss chalet town. The waterfall was nice (though they all pale in comparison after Iguazu) and we caught sight of a perfect Vietnamese scarecrow--shirt on a stick with the ubiquitous triangle hat. See both below.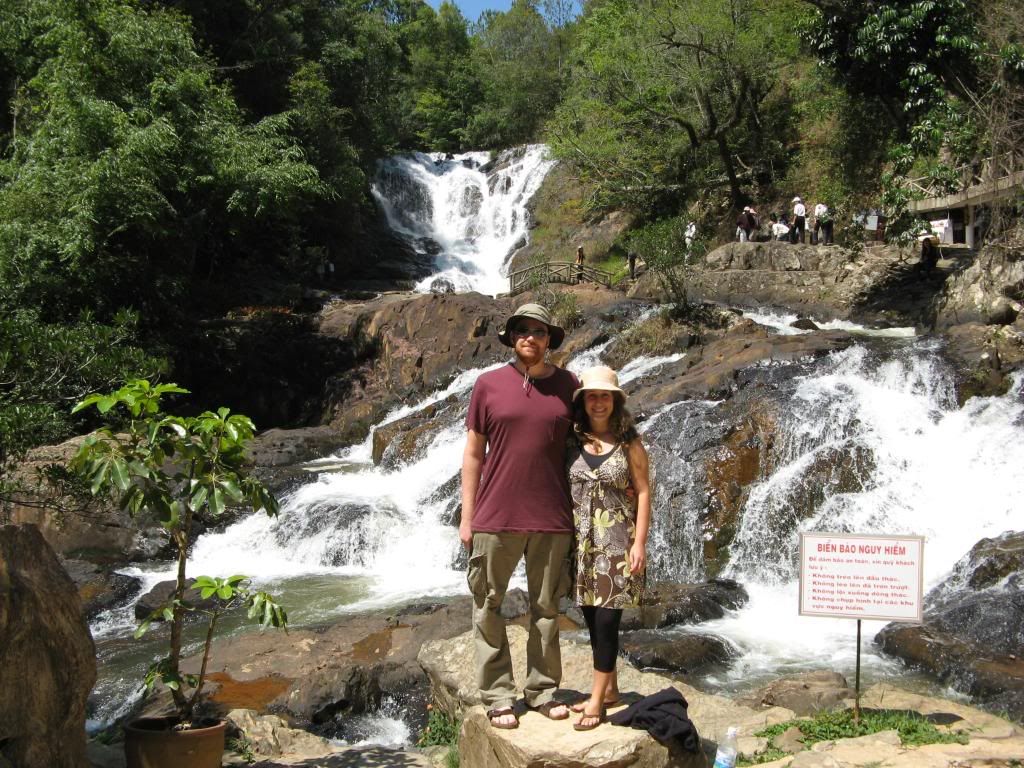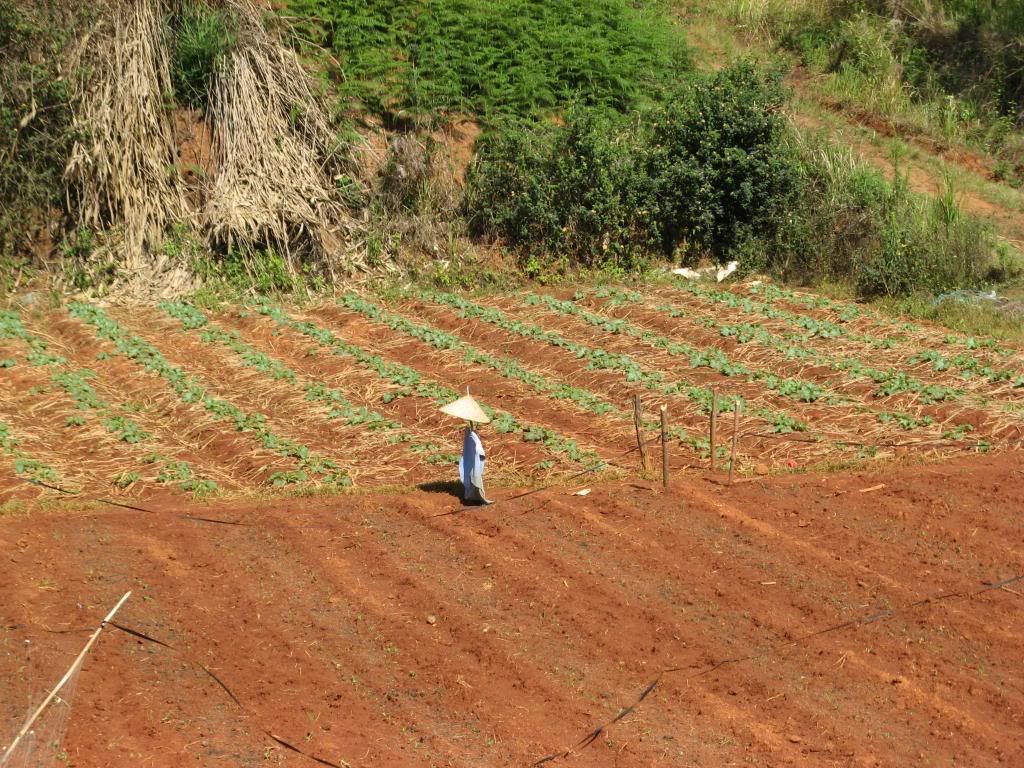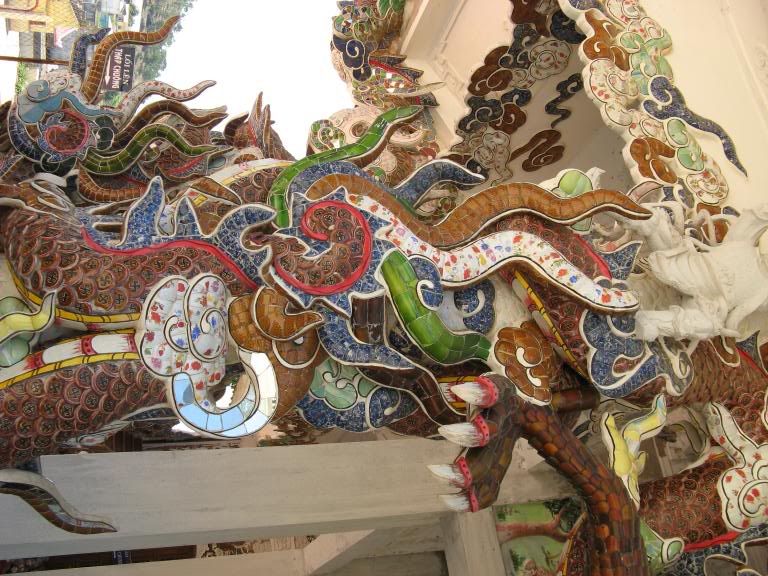 Another thing we found really interesting was the Dragon Pagoda. They started building this temple 15 years ago and still have lots of of work to do. The entire 7 stories of the chedi are mosaic, being assembled by hand. On the right is one of the many dragons that adorn the temple. Below on the left is a pile of bowls waiting to be broken (delft is VERY big here); on the right is a man on bamboo scaffolding working on the outside of the 4th floor.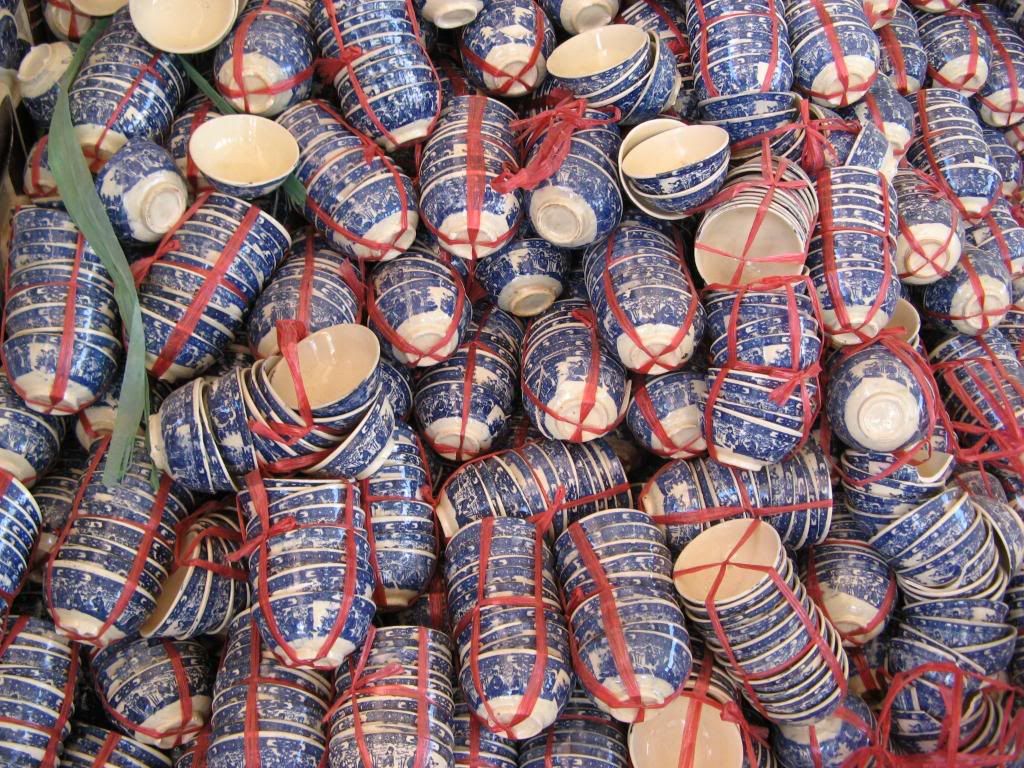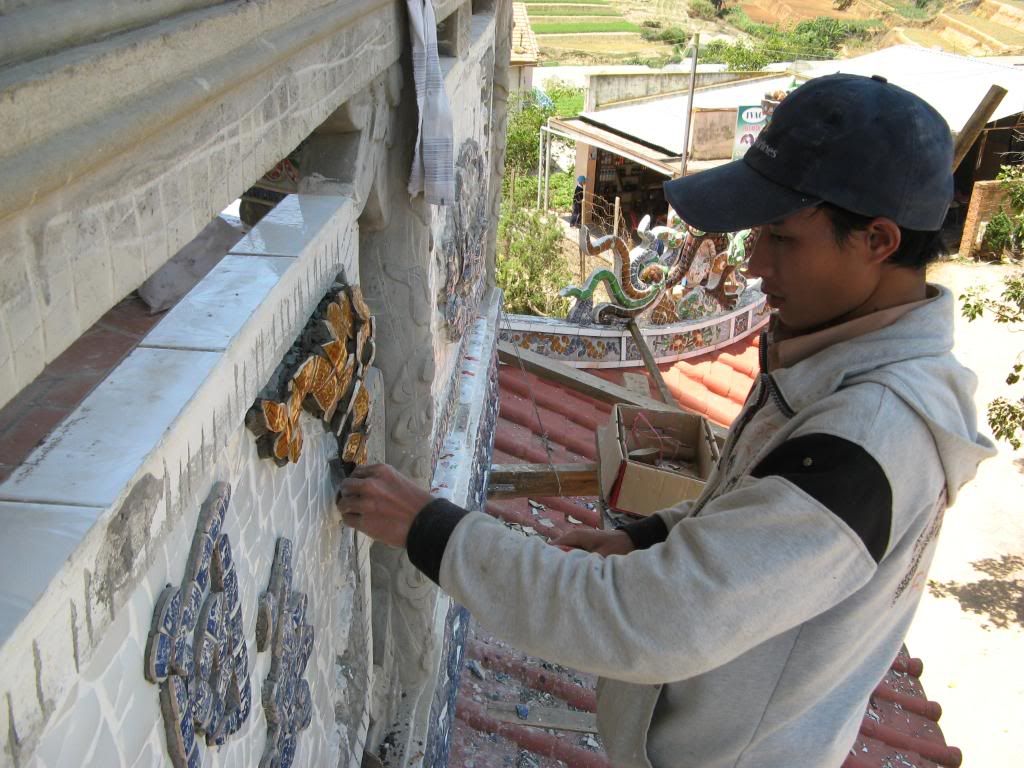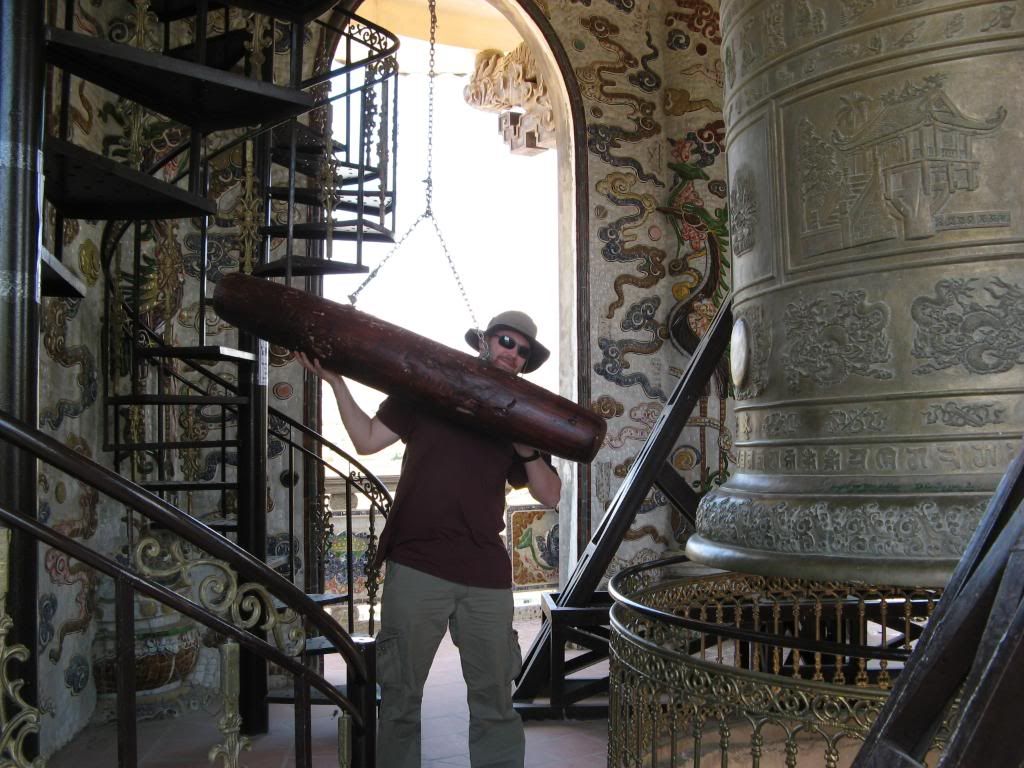 And for good measure, they let me ring the bell. Can't argue with that! After a few chilly days in Da Lat we descended from the mountain ridge and went to the beach. We *love* the beach! Especially when we're running low on reading material and the touts are selling $3 xeroxed copies of books we want to read... Nha Trang was beautiful and relaxing. The South China Sea was the perfect color and temperature, with great beach bungalows for rent. We spent a week doing just about nothing there, though we did manage to find the best pizza in all of Asia there. Miss Universe 2008 will be held there in August, but the convention center is just a huge ditch right now. Some pictures below.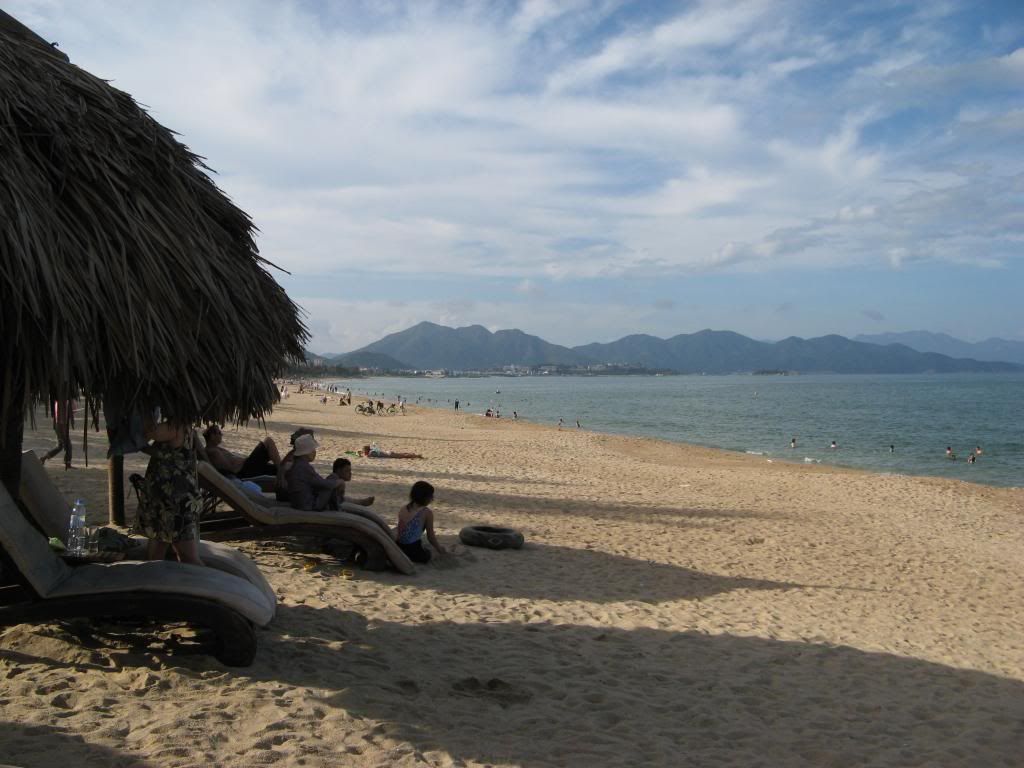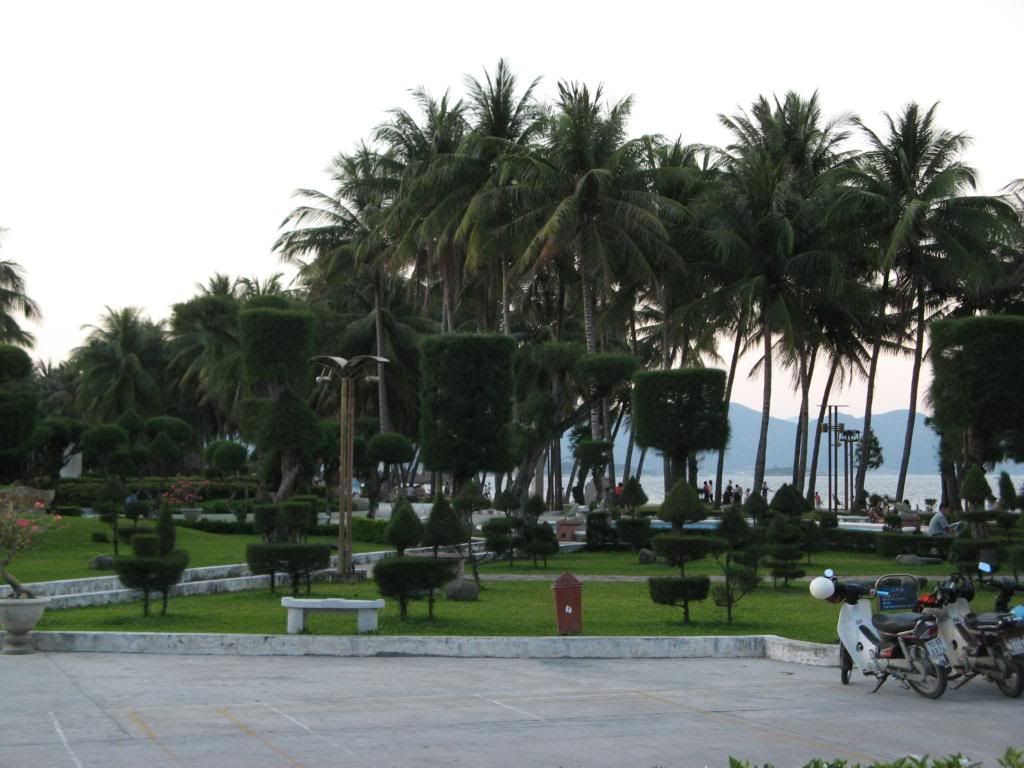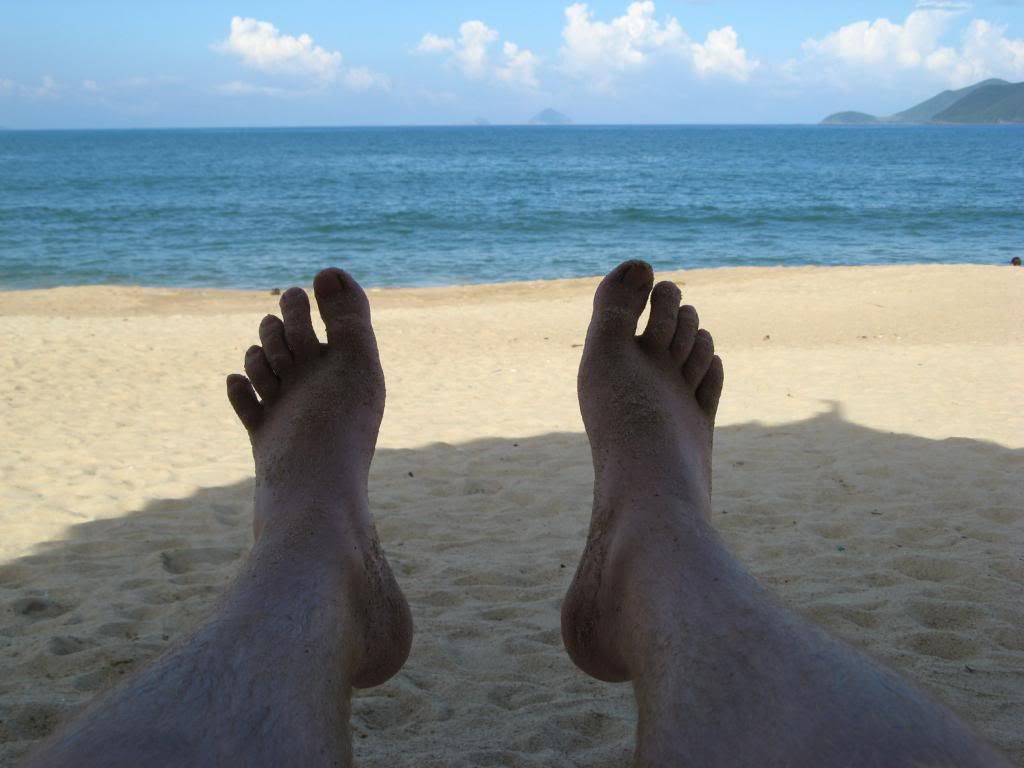 We're in the gorgeous city of Hoi An right now and will try to get a new post soon. In the somewhat-sad-news category, we finally booked our return tickets back to the states. On August 8 we fly from Auckland, NZ to Los Angeles, spending a few days with my nieces, then on to DC, NJ and finally back to NYC!
*Note* Sorry for any weird spacing issues... It is impossible to view any blogs in Vietnam (government censorship?) so I can't proof any of these posts. The weird thing is, blogger.com is fine, but any blog itself is blocked.