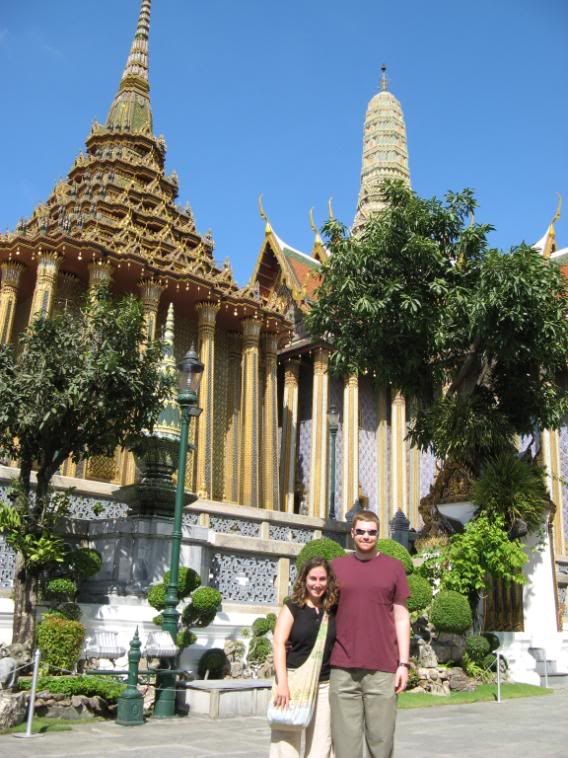 Hey there! Long day today--woke up at 5am (we surprisingly had no trouble adjusting to the 15 hour time difference) for the Super Bowl. Deanna was thrilled with the outcome and I was thrilled just watching one last football game this season.
So our flight over here was perfect--Thai Air gets a HUGE two thumbs up. Great service, plenty of legroom, good on demand entertainment system and yummy food. 18 hours later and we were in a hot pink taxi cutting through rush hour to get to the Sukhumvit section of Bangkok. We checked into D'Pelican guest house and decided to forgo the nap for some Buddhist temples.
After two taxi drivers said they would not take us to the historic center, we snapped back to our adventurous selves (alright, I'll admit it, we got lazy in the US) and took the sky train to the river boat to get up to the Grand Palace. From what we can tell so far, this city (and probably most other big cities in Asia) thrives on the dichotomy between ancient and ultra-modern--just the idea of taking a quiet, clean and efficient above-ground subway to a long-boat to float slowly down the river impressed us.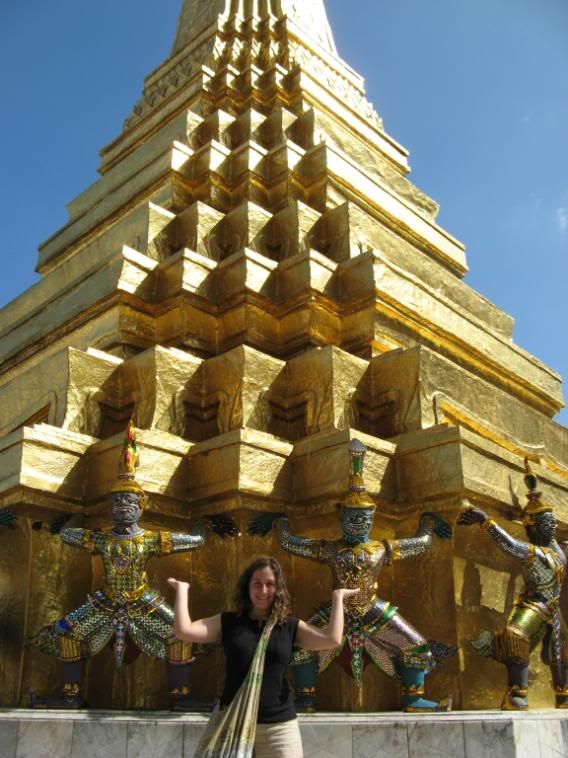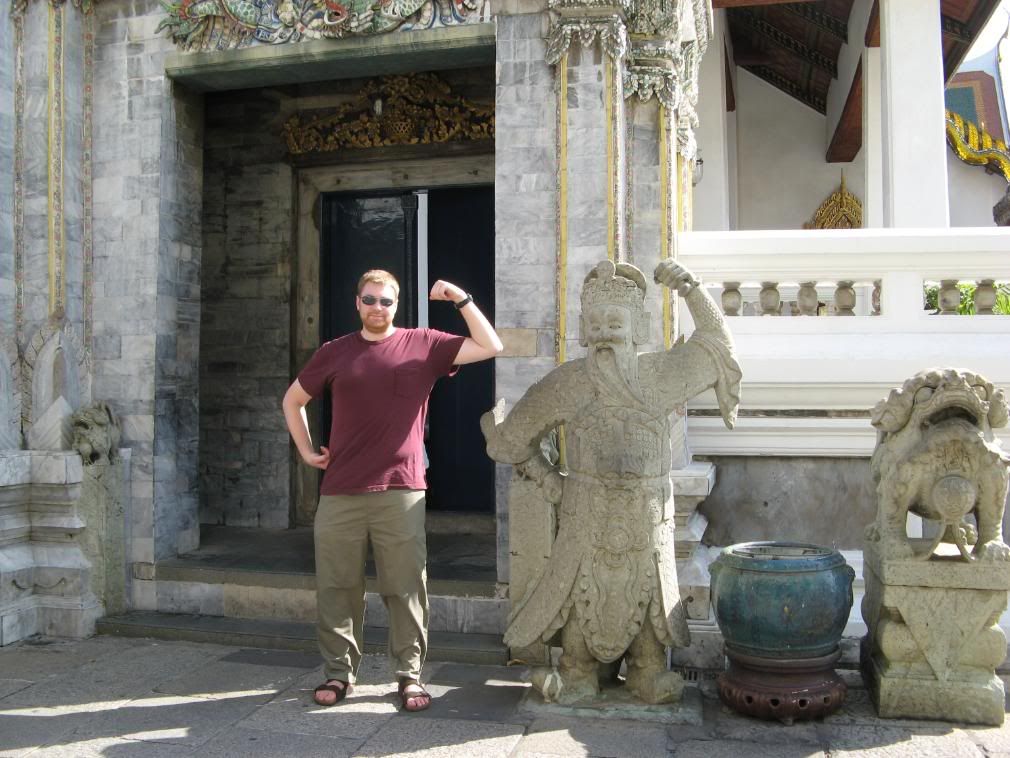 Here we are at Wat Phra Kaew, in the Grand Palace, home of the emerald Buddha (which is really made of jade and is spectacular, but alas, no cameras in that temple). We got our first taste of the Heat this afternoon, as the direct sun was just sweltering (and it's the dead of winter, yikes!). So we wandered back home and had a great dinner--despite everyone's warnings, the food here is pretty close to what we get when we eat thai back home, which proves my theory that Faan on Smith Street is legit for thai, japanese and chinese.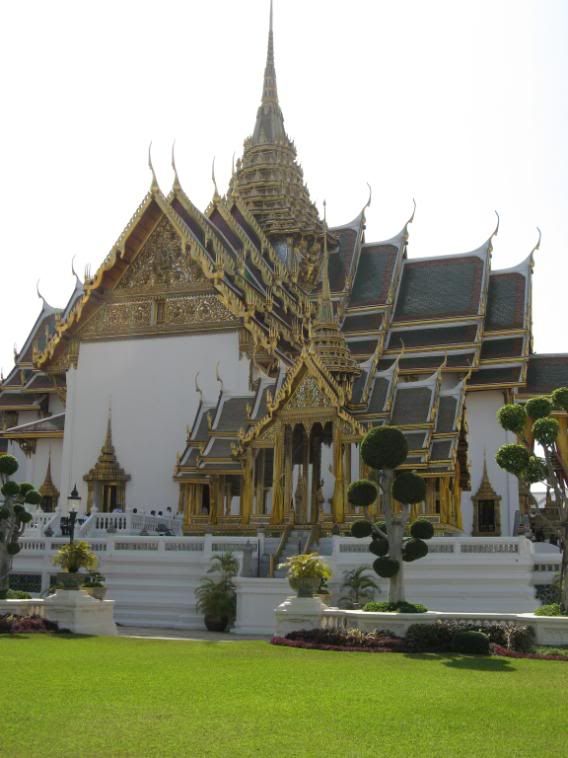 The next day we took the underground subway to the train station to book our passage up north. Everything runs very smoothly here so far, very reminiscent of German efficiency. (Note: I wrote this yesterday, so of course it came back to bite us in our ass today--we spent 5 hours in the train stration today waiting for our delayed train...) Tomorrow morning we head up to the ancient walled city of Sukhothai en route to the hippie trail (we had the gringo trail in South America and now the hippie trail here) outpost of Chiang Mai. A quick tuk-tuk ride later put us at Wat Pho to see the largest reclining Buddha in the world--a whopping 46 meters long and 15 meters high. You don't really get that full scale below...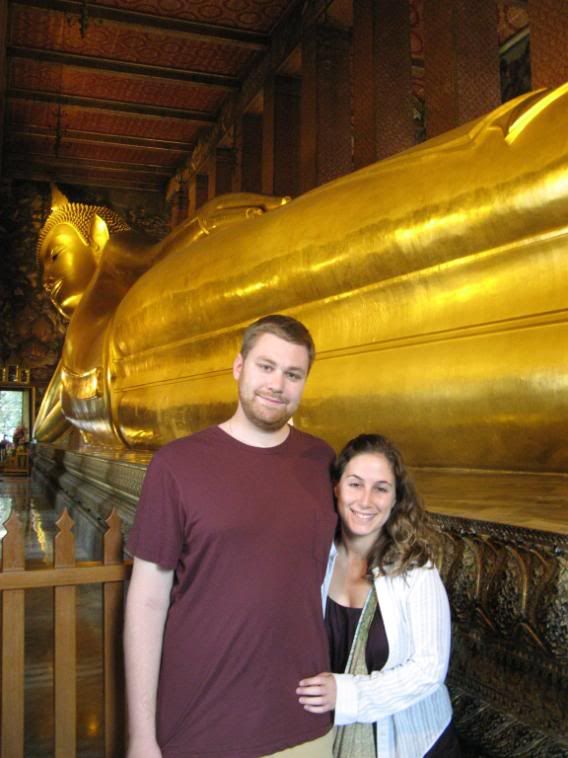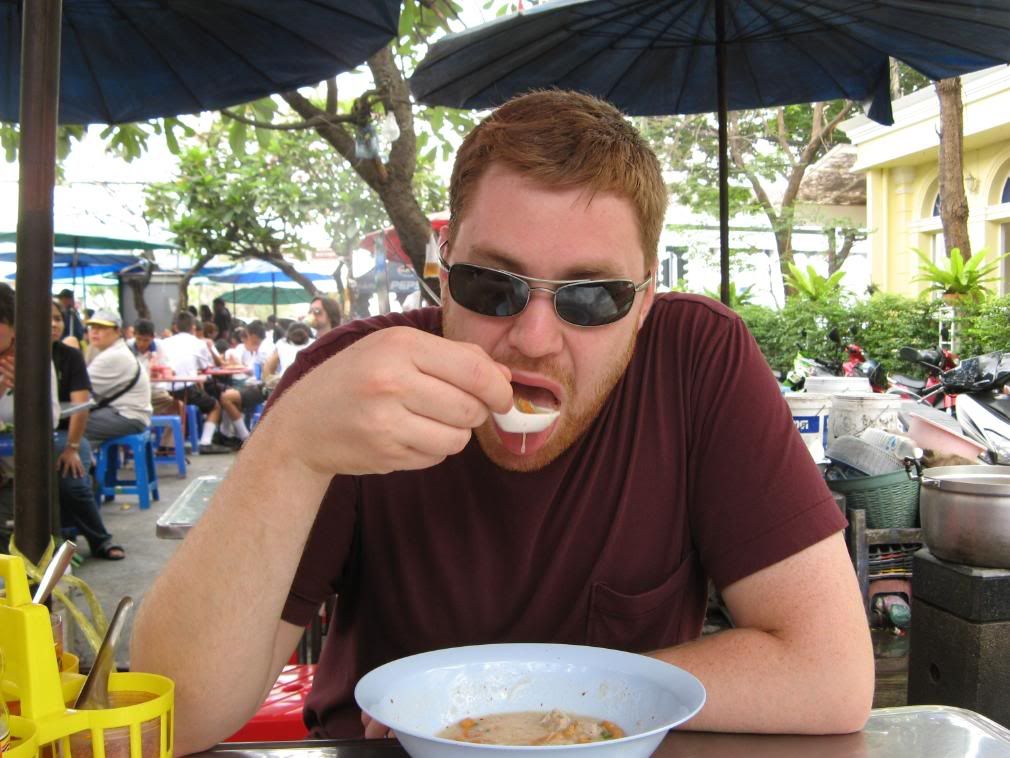 Next we strolled to an outdoor market and tried some new food-- unidentifiable oatmeal-like mushy soup with some sort of meatballs and other stuff in it. It was actually one of the best things I've had here so far. Note the soup dribbling down my chin as I waited, posed, for Deanna to take the picture. Later that night we met up with Russ's and Jordan's uncle, Mark, for dinner and a tour of the red light districts. We had a blast running around Nana and Soi Cowboy areas.
Right now we're in Phitsanulok, after the aforementioned 5 hour delay leaving Bangkok. The train ride up here was breathtaking--palm trees, rolling green meadows, craggity mountains topped with giant bronze buddhas, temple after temple. Tomorrow we will head to Sukhothai to see the ancient walled city. We'll check in again when we get to Chiang Mai. Here's to hoping that either Clinton or Obama (whoever wins today) can and will beat the republican candidate...