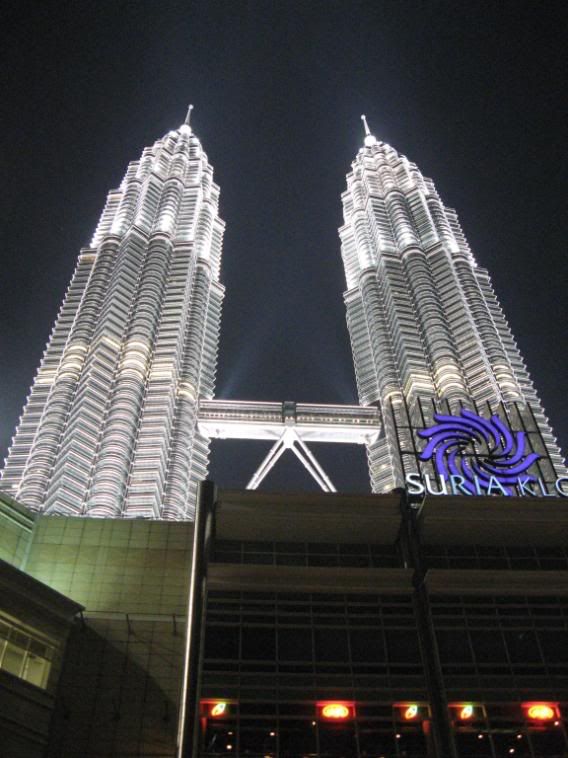 We've spent the last week doing just about nothing... and it's been great. We're not quite road-weary yet, but it is very nice to take a break, unpack our bags and stay in the same room for 8 nights. We've settled in Kuala Lumpur on the main street of Chinatown, so we're constantly eating amazing and cheap street food (the duck has been our favorite). KL has a huge shopping mall culture. There's one area of town, Bukit Bintang, that is a collection of 15 full-size malls (each with a theme--electronics, clothing, housewares, etc), all with food courts, movie theatres, bowling alleys and air conditioning. So we've made it a point to visit as many malls as we can, basking in the frigid air. The mall at the base of the Petronas Towers (see right--the world's tallest buildings from 1998-2004) has EVERY western store we've ever heard of--from Famous Amos to the Gap, Hermes to Reef, KFC to Chillis, and Body Shop to California Pizza Kitchen. We've even seen every English movie playing here (6 of em, including Indiana Jones in IMAX). And everyone speaks perfect English.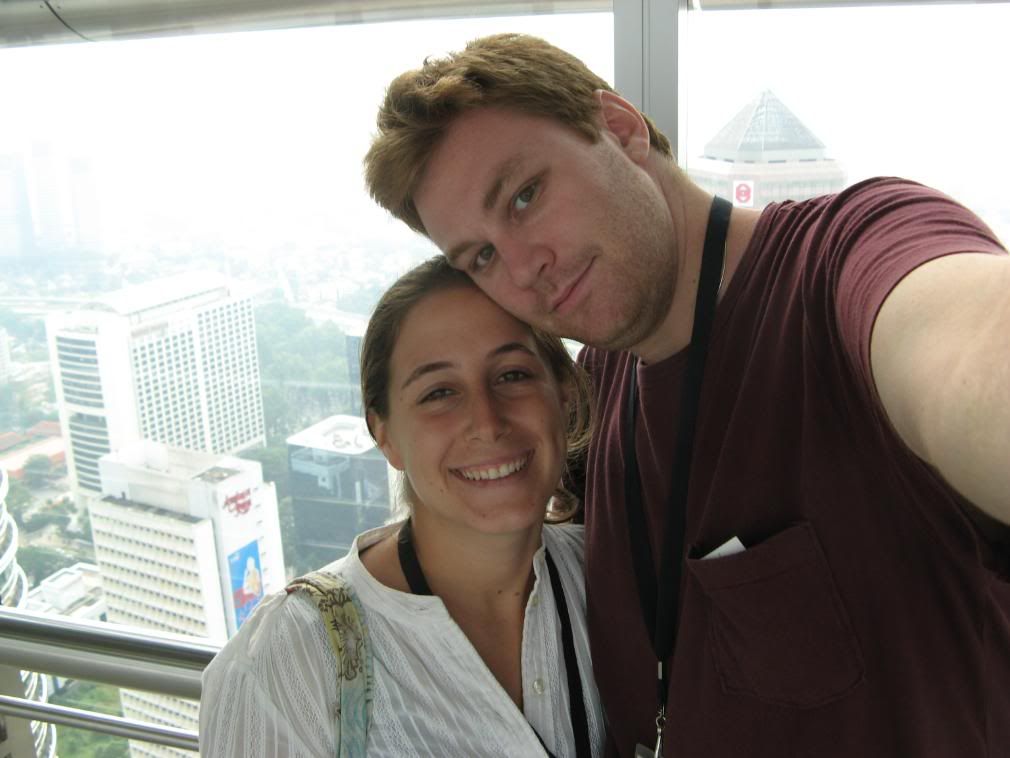 So this has been a lazy week of singing the Big Mac chant ("Two all-beef patties...) to win a free Big Mac, going to the Indonesian Embassy three times, 5 trips to a fast-food sushi restaurant (gotta love the conveyor belt), beard shaving (see left--us on the sky bridge connecting the two Petronas towers) and relaxing.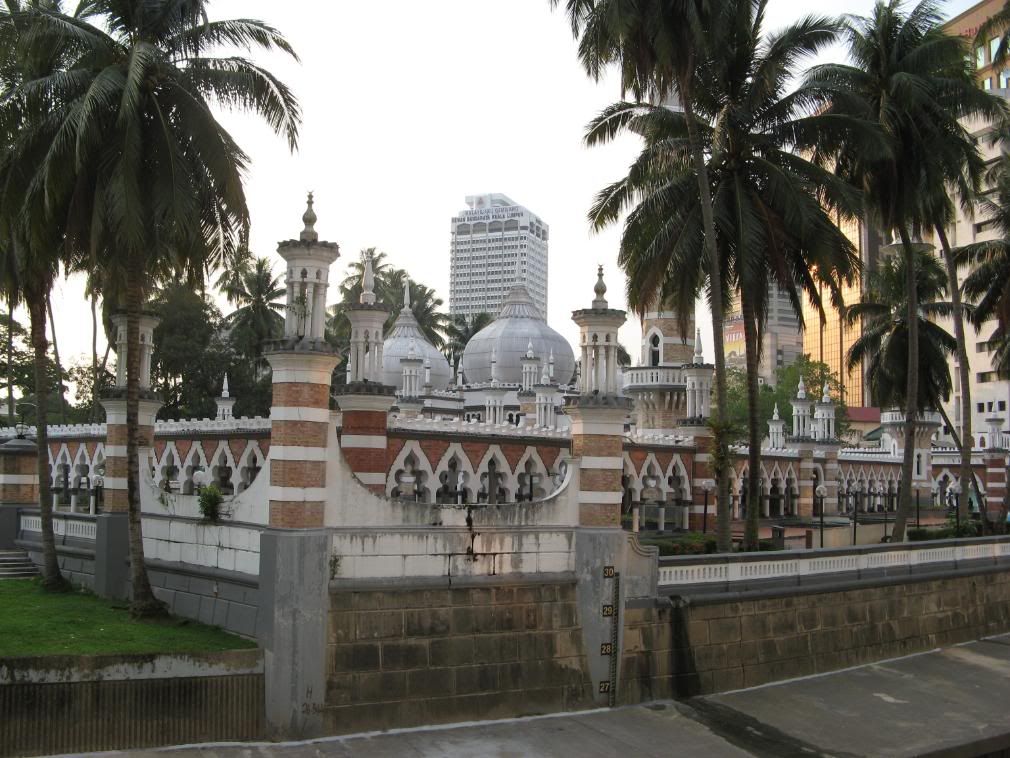 Some highlights of KL were the Islamic art museum, in a gorgeous, well-lit building, all the beautiful mosques around town (see right for our favorite one) and just riding around town on the monorail and subways. See below for the Petronas Towers during the day and a fantastic ornate Hindu temple, the Sri Mahamariamman Temple.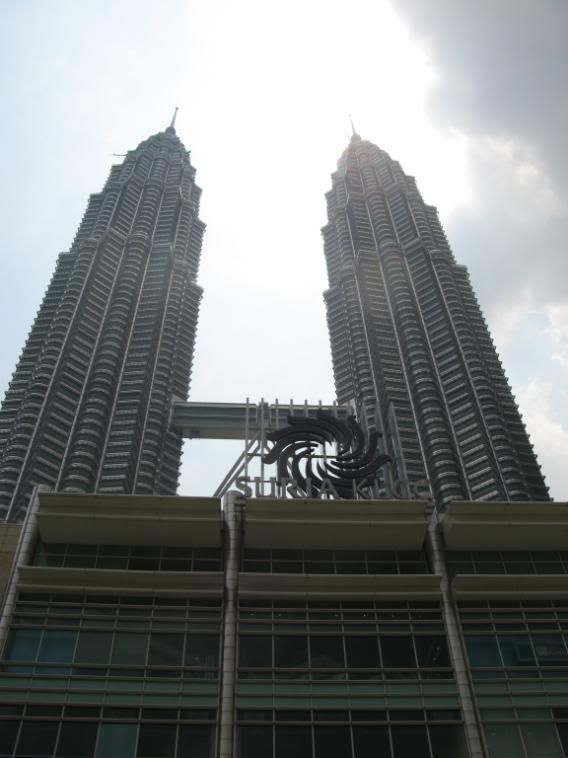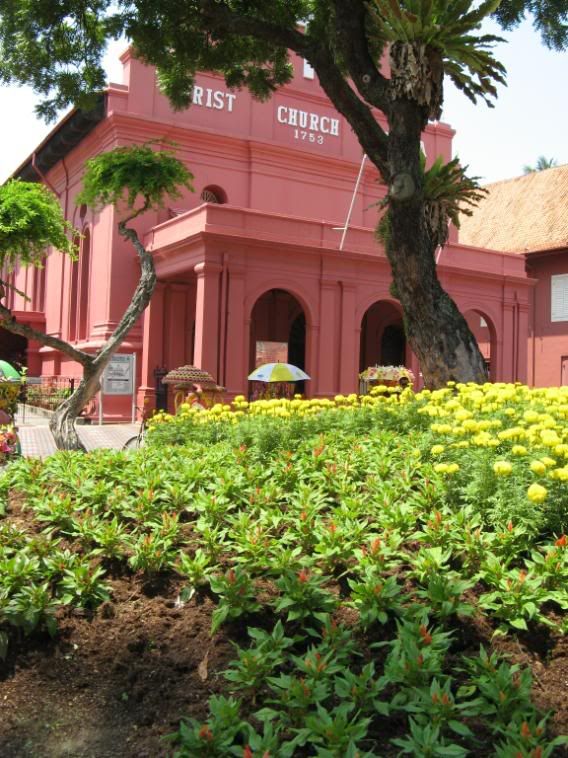 We did manage to wake up at an early hour one morning to take a day trip south to the colonial town of Melaka. This town has a rich history of Chinese, Dutch and British rule, with churches, forts and temples to prove it. We spent a scorching hot day walking around the old town (with its great mauve buildings, some dating back from the 1750s, see left). Below on the left you'll see the famous Porta di Sebastian, at the entrance to the fort. Below on the right is a bonus picture of us with 3-D glasses on about to watch the 3-D film on the building of the Petronas Towers. Tomorrow we fly to Java, Indonesia, to check out some volcanoes en route to a few weeks in Bali. We'll check back in soon!