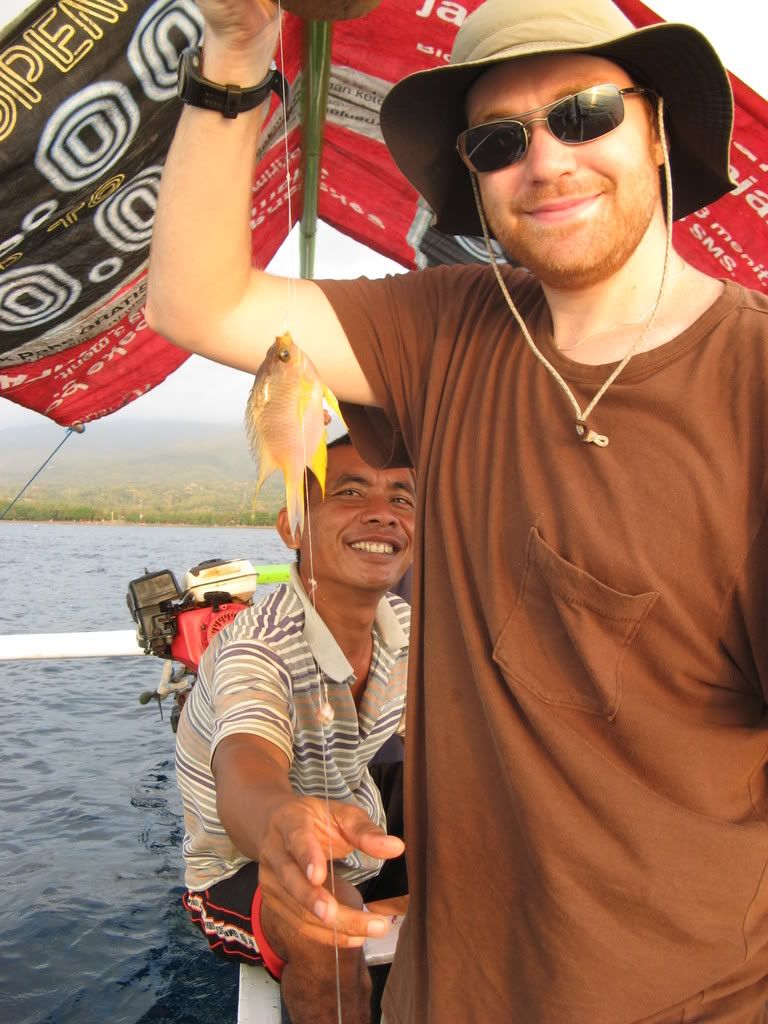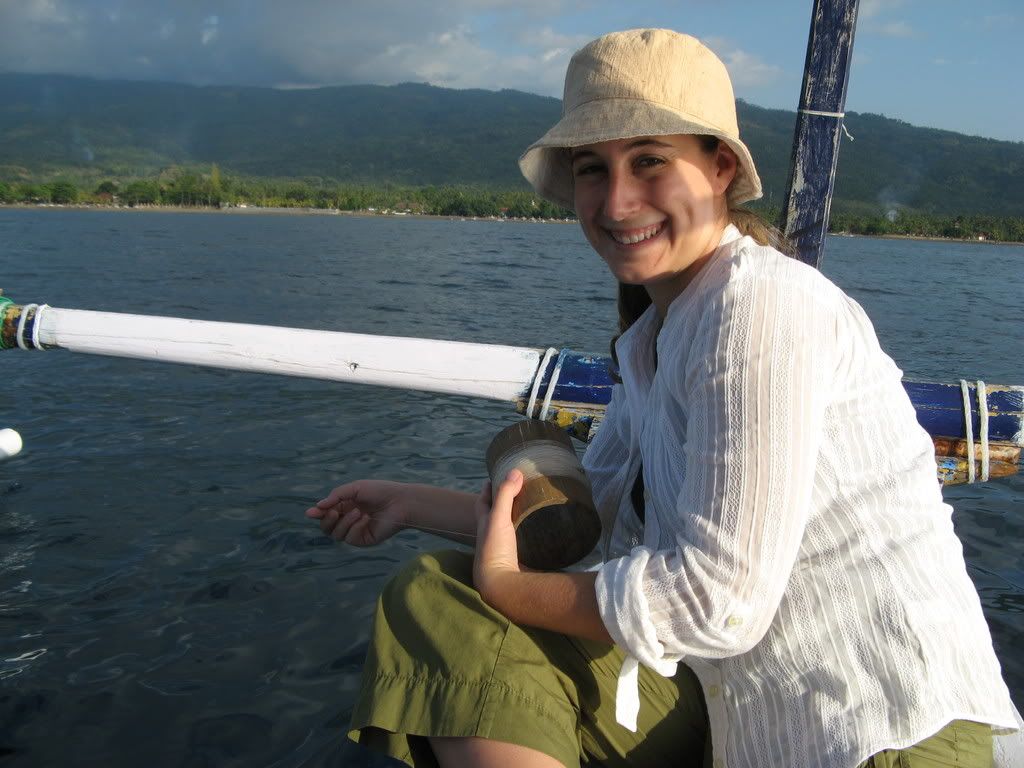 We finished our wonderful sojourn in Lovina with a sunset fishing trip with our new buddy, Bikul. In staying with the traditions of the islands, we fished manually--fishing line wrapped around a short segment of bamboo (above right). No rod or reel, so now if Deanna ever makes it onto "Survivor" she'll know what to do. On the left you will see the one fish that I caught (at a whopping 5"). I also managed to get two of my three hooks ripped off--Bikul thinks that I snared two small snapper and then a baracuda ate them, hooks and all. Patient Deanna didn't even get a nibble on her bait.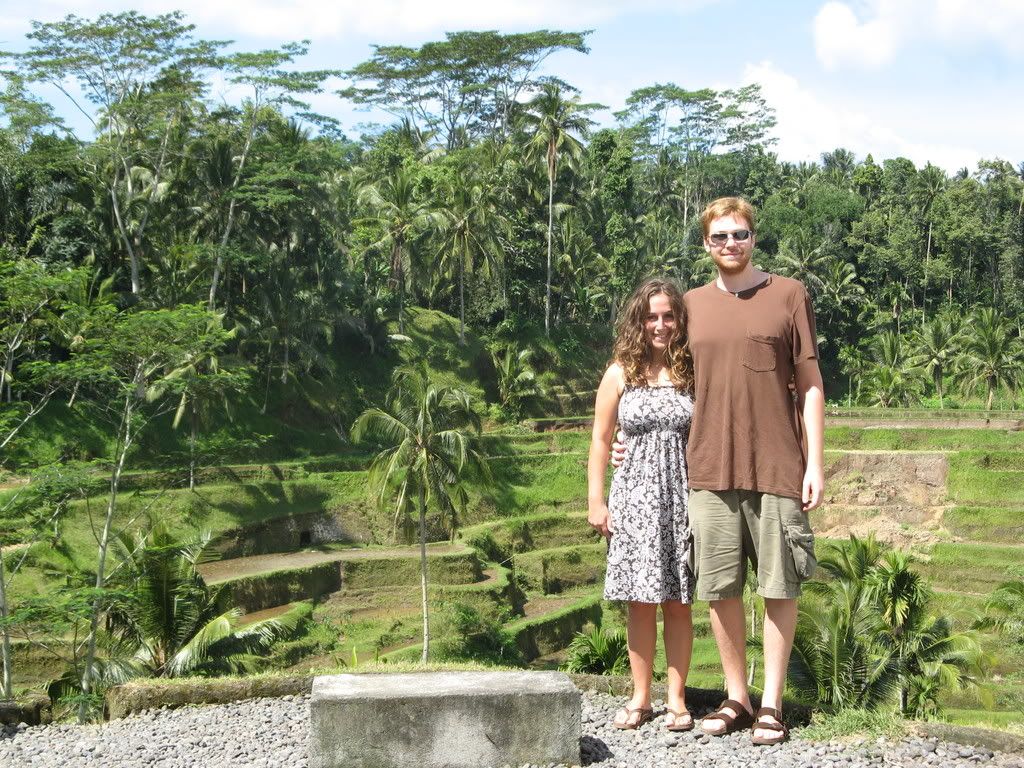 From Lovina we took a breathtaking minivan ride inland through the mountains, lakes, monkey forests and hydrangea fields to the great town of Ubud. Surrounded by terraced rice paddies, this town has it all--music, food, temples, shopping, and scenery--tons of culture. On the left you'll see us in front of spectacular rice terraces that cover every hillside. We've been here for a week and it's pretty hard to motivate to go anywhere else.
On our first night here we caught a traditional Bali Ketcak fire dance show. The vocal music was supplied by 70 village men, young and old, sitting in a circle. They did rhythm and melody for over an hour, just with their voices. The first act was a take on the ancient Hindu saga, the Ramayana (below left), and the finale was a man with a horse costume walking through coconut husks on fire (below right). That, coupled with the Gamelan music played nightly behind our bungalow, has given us an authentic feel for the endearing Balinese culture.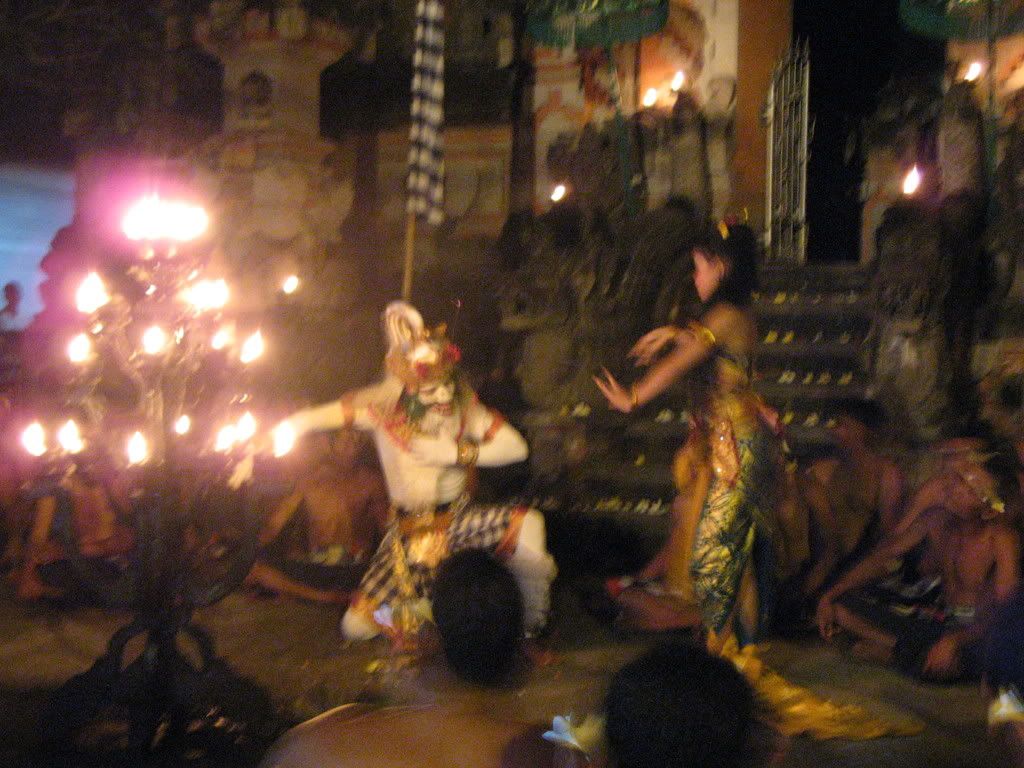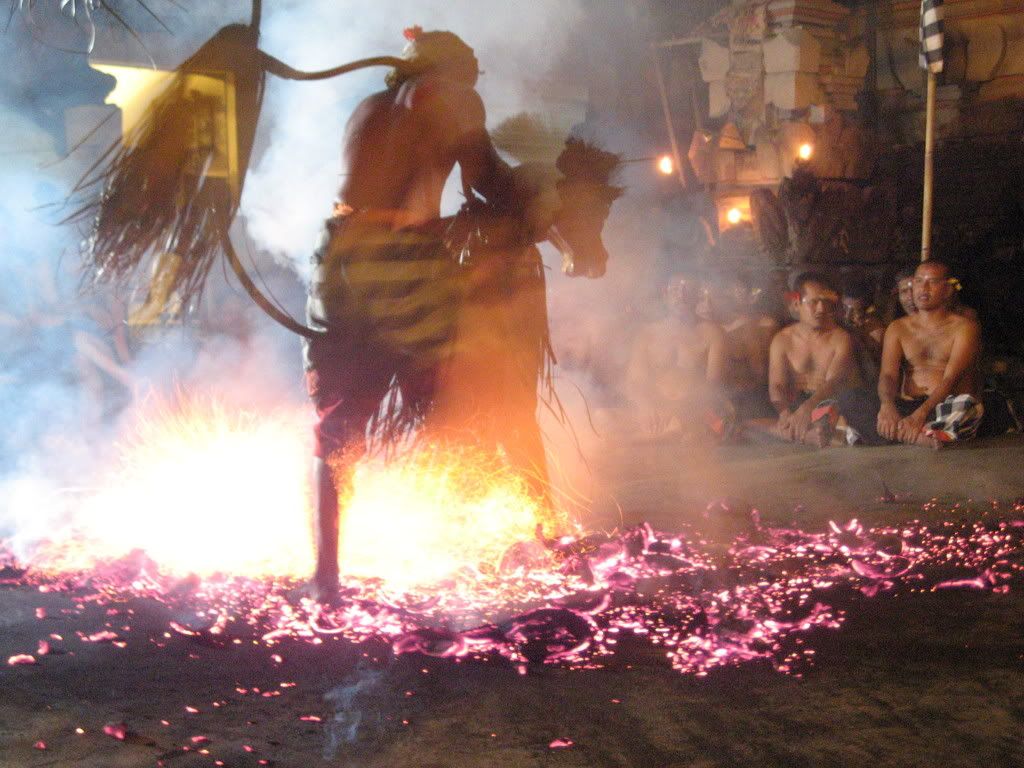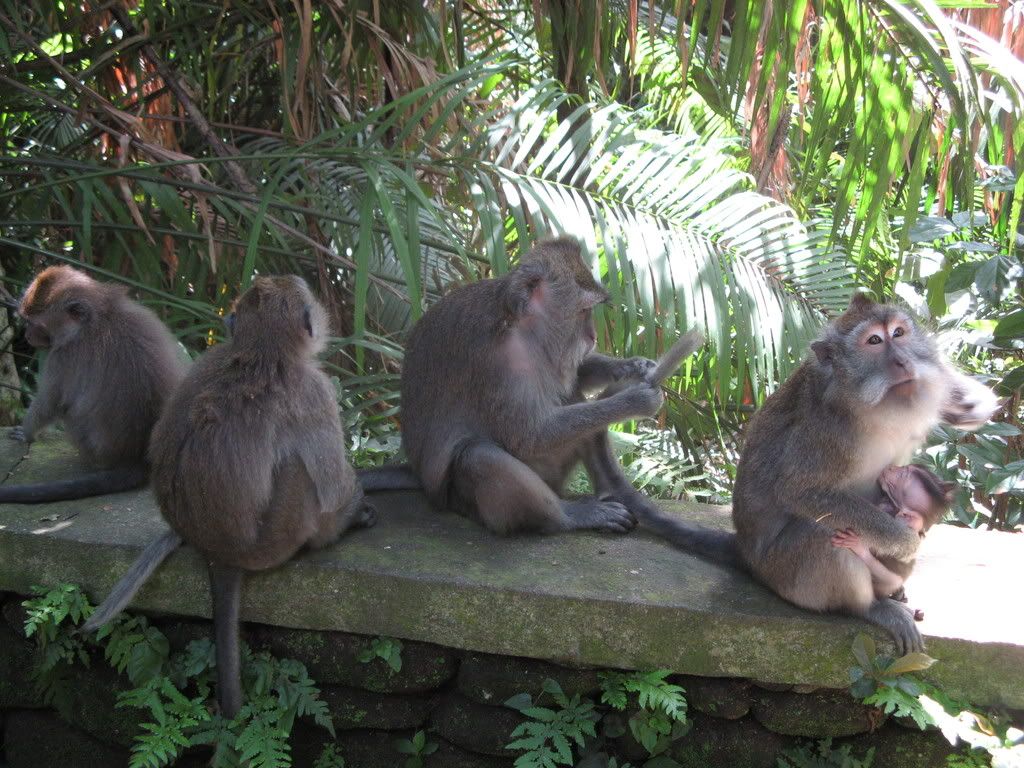 In between visits to the fantastic library, which has every book we've ever wanted to read, we've kept busy with a few day trips around the region. The first was to the Sacred Monkey Forest. It was great to see all the wild macaques running around the forest temples, but when one mischevious monkey chose my back to climb on, we decided it was time to get out of dodge.
Other Ubud highlights have been a trip to Goa Gajah (the elephant cave) and Gunung Kawi, one of the most beautiful places we've been to on this trip. The latter, pictured right and below, was a small river valley with altars carved into the mountain side. Deanna, with her impressive hawk eyes, spotted a tiny sign in one of the farms that said "Waterfall 200m." We followed the arrow and about 2km later, a local farmer guided us the rest of the way. During the entire walk we were surrounded by spectacular rice terraces (below right). Since we were the only people around, it felt like our private paradise.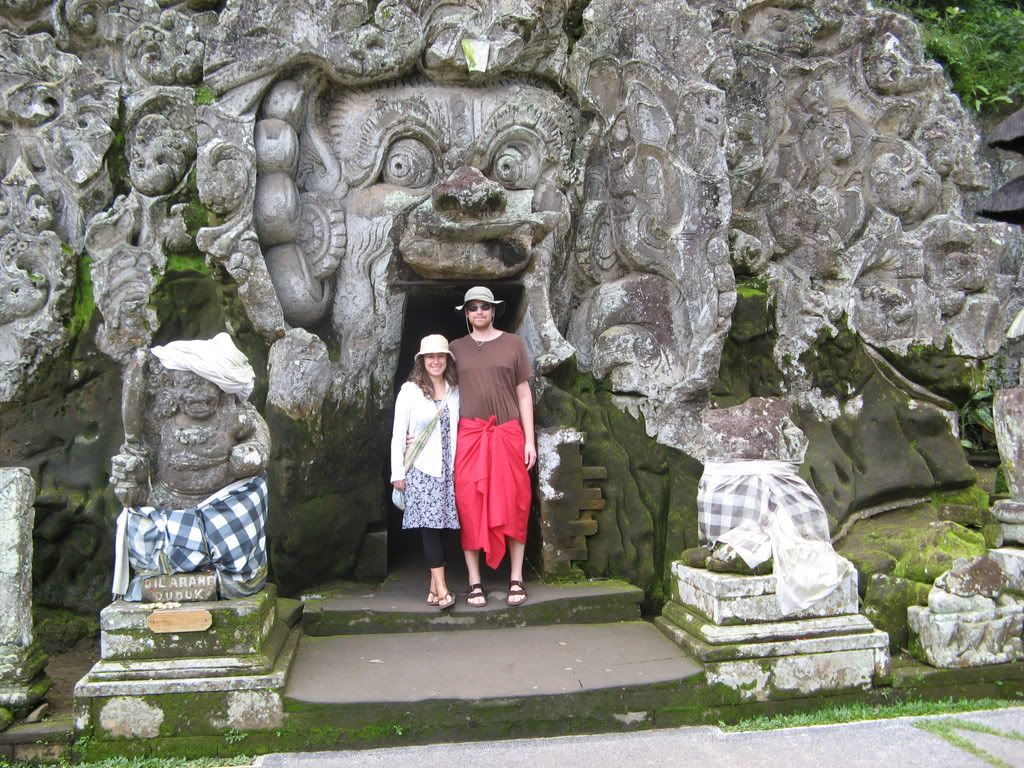 The elephant cave is a temple chiseled into the hillside in the middle of the jungle/forest, surrounded by ceremonial spring-fed baths. The lush plant life in the temple complex made it a sight worth seeing. Stay tuned, as we have more Ubud pictures and stories to tell (as soon as we find a faster internet connection).