Ok, well really just of "rice." We've seen our fair share of rice fields on this trip--in literally every country we've been to (save for the 2 hours I spent shopping in Myanmar's equivalent of Tijuana). Vietnam stands out as having the most beauitiful rice paddies--the most striking greens we've ever seen with the conical hats poking above. But in central Bali the hilly terrain doesn't allow for endless tracts of rice stretching to the horizon. Here they have to terrace the land and grow rice in small patches that drop in elevation every 10 or 15 feet.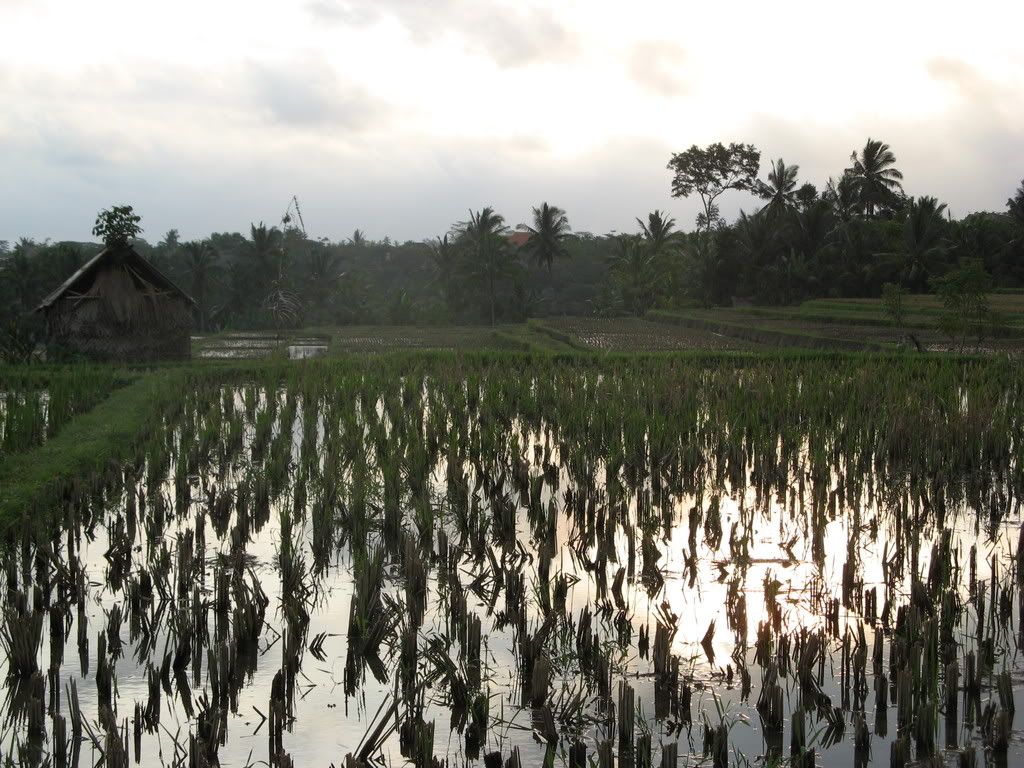 And it's really something. Scroll down to the previous blog post to see the most breathtaking pictures. In Ubud we've spent hour after hour walking through the rice terraces, watching the ducks sip water from the flooded paddies, men with curved knifes whiddling wood and children flying kites higher than the far-off cell phone towers. Watching the reflection of the sun set (right) in the flooded paddies is an image that will always stay with us.
In South America there are tons of stray dogs everywhere--which means that no one cleans up after them. This leads to a problem when walking down the steet: you constantly have to look down at your feet in order to prevent stepping on unwanted dog droppings. Here there are much fewer dogs so it really isn't an issue, but there is something new keeping our eyes fixed on the ground--small Hindu offerings called "canang sari."
This island is unique in that it is almost entirely Hindu, whereas Indonesia as a whole is the largest Muslim country in the world (with a whopping 240 million people). So every day, in front of every store, house, temple, staircase, etc, you will find one of the offerings shown above. They are put out three times a day and only Shiva knows how many we stepped on. At the right is a much larger and more elaborate offering given for the Festival of Knowledge, a holiday that occured while we were in town.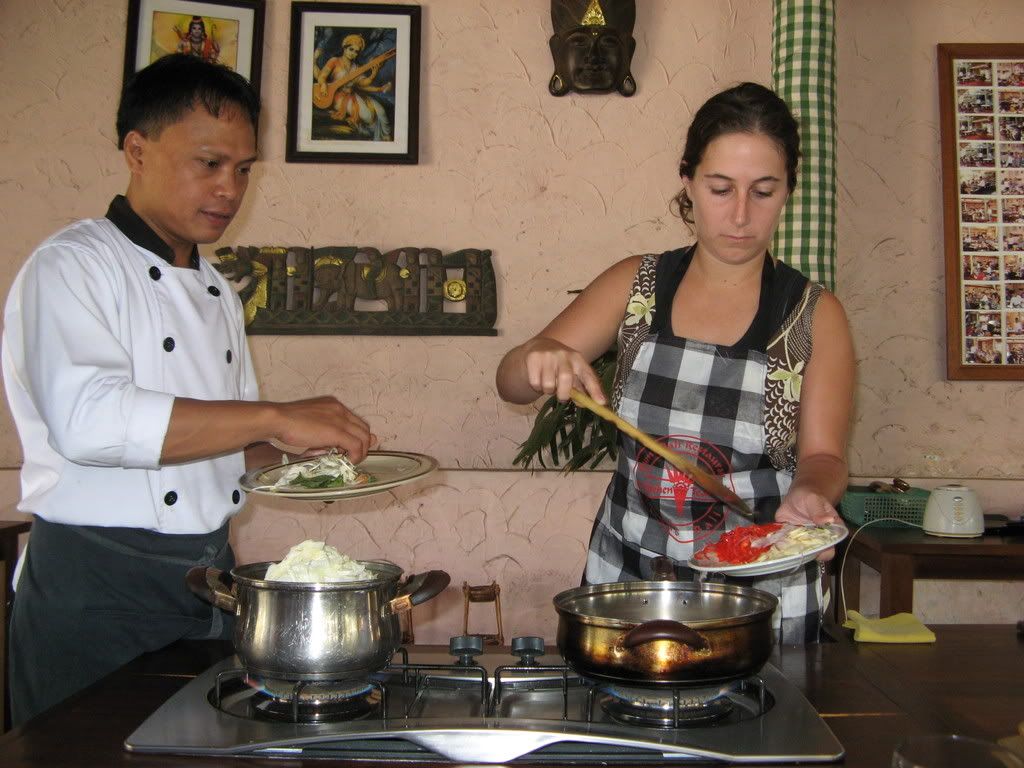 One of the days we spent taking a cooking class, which of course centered around rice (served with every course). We never bothered to steam it, but we did eat plenty of it with each of our creations. On the left is Deanna with our teacher, Ketut, making a fantastic vegetable dish that employed the base gede, or basic spice (their version of a curry paste). Below you'll see Deanna working on tempe manis and a chicken curry. Further below, you'll see me working on an Indonesian satay, which is more like a meatloaf on a stick than a regular satay bbq skewer. Mmmmmm...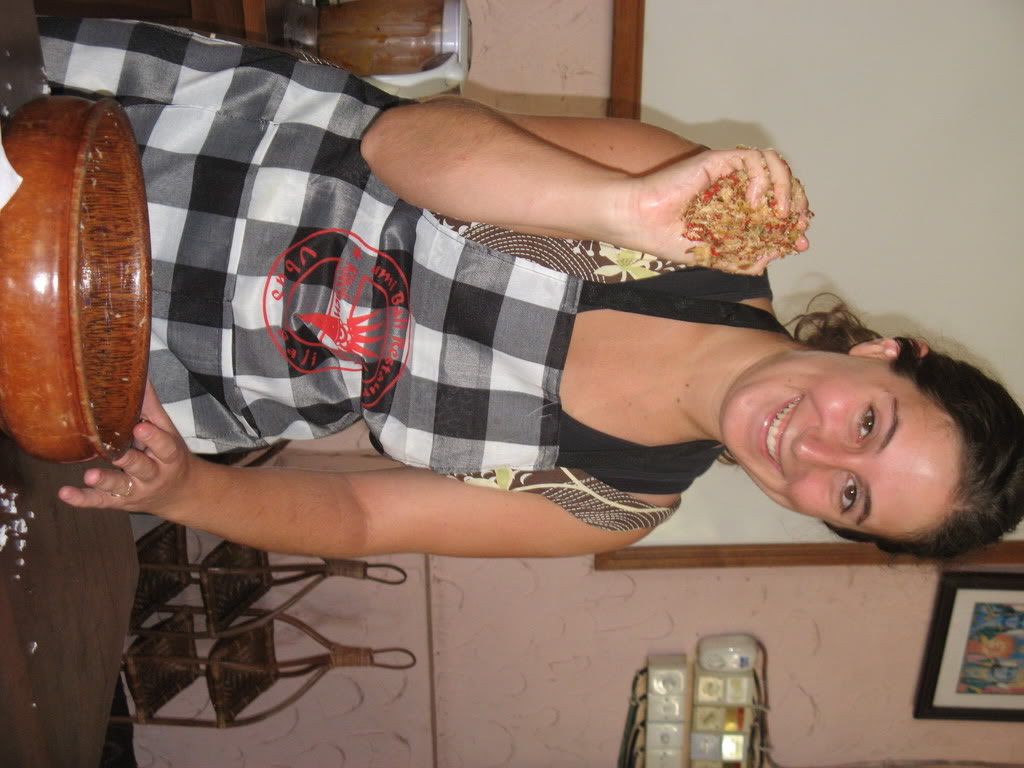 We managed to pull ourselves away from Ubud to spend a week or two on Gili Trawangan. Just off the coast of Lombok, the next main island east of Bali, there are three tiny islands, known as the Gili islands (the word "gili" means "island" so go figure). We're on the larger one, Gili Trawangan. I could spend a few paragraphs writing how crystal clear the water is and how quiet and tranquil the beaches are, and how beautiful the sunset looks behind Bali's big volcano, but there's really only one detail worth noting. There is a sushi bar here that is ON THE BEACH. We're talking IN THE SAND. There is nothing more amazing and relaxing and perfect than eating sushi with your toes in the sand. Life is good...